Accessible Community Task Force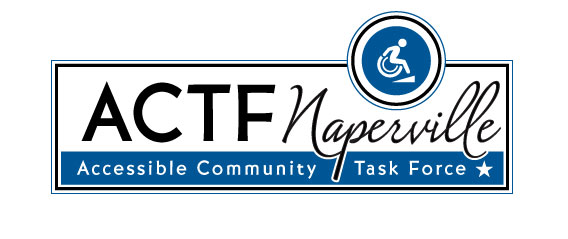 On August 3, 2016, the Advisory Commission on Disabilities recommended the creation of the Accessible Community Task Force (ACTF). The recommendation was unanimously approved by the City Council on August 16, 2016.
ACTF will complement the efforts of the Advisory Commission on Disabilities (ACD) and report to the ACD as appropriate. Whereas the ACD focuses on City of Naperville facilities, programs and operations, this new task force looks beyond City-owned and operated programs/facilities to assist individuals and private companies within the City. This group is organized as a citizen committee with areas of focus likely including: transportation, young adult and youth initiatives, business compliance, employment, education/awareness and collaboration.
Meeting Information
The ACTF meets at 7 p.m. on the second Wednesday of each month in the lunch room of the Naperville Municipal Center, 400 S. Eagle St.
For more information, contact:
Amy Emery, Strategic Projects Supervisor
Things You Should Know
In the City's 2017 Community Survey, 10 percent of households reported having someone in the household having a disability as recognized by the Americans with Disabilities Act.
Centennial Beach Special Needs Nights
Special Needs Nights at Centennial Beach are scheduled for Sunday, July 16 and 30 from 6:30 to 8 p.m. Families with members who have special needs are invited to enjoy a quiet relaxing evening. No registration is required. Cost is $3 per person for non-members. For more info refer to www.napervilleparks.org.
Project COACH
College of DuPage will launch Project COACH (Career Opportunities and ACHievement) this fall to increase educational, vocational and socialization opportunities for developmentally disabled students in DuPage County. The two-year, application-based program is targeted at adults with mild intellectual or developmental disabilities. It also provides post-high school transition students with additional educational training aimed at preparing them for meaningful employment. There are 15 spots available for the fall 2017 term. For more information, call (630) 942-2176 or visit www.cod.edu/vocational.
Person with a Disability Wallet Card
The new Person with a Disability Wallet Card is now available at any Secretary of State Driver's Services Facility for people diagnosed with an intellectual, developmental or mental condition. This card can be presented to police during a traffic stop to help explain behavior that could otherwise be interpreted as angry, uncooperative or suspicious.
City Performance Management Goals
Naperville has set seven performance management goals toward which progress will be reported on the open data portal on the City's website. Two of the goals are specific to individuals struggling with mental illness. They are:
To train 20% of police officers in Crisis Intervention Team procedures for responding to mental health calls by 2019, and
To create a Crisis Intervention Team to provide follow-up care to 75% of identified individuals with mental health conditions within 30 days of an emergency call.