Tree Line USA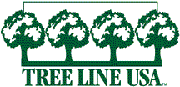 The Naperville Electric Utility was first accredited as a Tree Line USA Utility in 2009. This accreditation recognizes public and private utilities across the nation that demonstrate practices that protect and enhance America's urban forests. The Electric Utility recently received reaccreditation as a Tree Line USA Utility for 2016.
Trees and utility service lines are integral components of every community. By necessity, they must co-exist in close proximity, and each in its own way is essential to our high standard of living. The Arbor Day Foundation Tree Line USA program promotes the dual goals of dependable utility service and abundant, healthy trees in America's communities.

If you have a tree(s) growing under the electric power lines and are interested in replacing these trees as part of the Naperville Electric Utility tree replacement program, please contact Donna DeFalco at (630) 420-6198.