Water Quality
Naperville's Water Utility is proud to provide high-quality drinking water that is clean and safe for you and your family to use. In fact, the water supplied by the City complies with all Illinois Environmental Protection Agency (IEPA) standards, including those for lead.
While there is no lead situation affecting the quality of Naperville's water supply, the City wants you to be informed as possible when it comes to your drinking water. It's possible that construction activities taking place in your neighborhood to repair or maintain water mains, lead service lines or water meters may temporarily increase lead levels in the water supply. Having a lead service line does not necessarily mean you will have lead in your water, but it does indicate that you may be at greater risk if your lead service line is disrupted.
New Water Quality Notification Requirements
In July 2016, the City began implementing some enhanced notifications as required by the IEPA to increase your water quality awareness and reduce the potential for lead in drinking water.
New water quality notifications are required and put in place by the IEPA when water maintenance or replacement work is being performed in areas developed prior to 1986. The notifications are meant to be informational and are an additional effort to provide proactive tips for health and safety as part of a proactive approach to educate residents about the quality of the City's water supply.
From now on, all residents affected by construction activity will receive a notice at their door describing the project and contact information for questions/concerns. Types of construction activities requiring notice include:
A water main replacement project within one (1) block of your location.
The repair of a water main break within one (1) block of your location.
The replacement of your water meter
Water Service Line Inventory Requirements
As outlined in the new IEPA requirements, Water Utility personnel are currently in the process of completing an inventory of all water services in the City to determine properties that may have a water service constructed of lead pipe. (Please note that there is no lead situation affecting the quality of Naperville's water supply.)
Through extensive research, utility staff believes that out of the more than 43,300 water services in the City, approximately 800 customers may have a lead service line. Water Utility personnel intend to perform an onsite inspection of the approximately 800 properties to verify if a lead water service is present so that the utility can complete its water service inventory. A map showing areas of the City where potential lead service lines and plumbing materials still exist is below.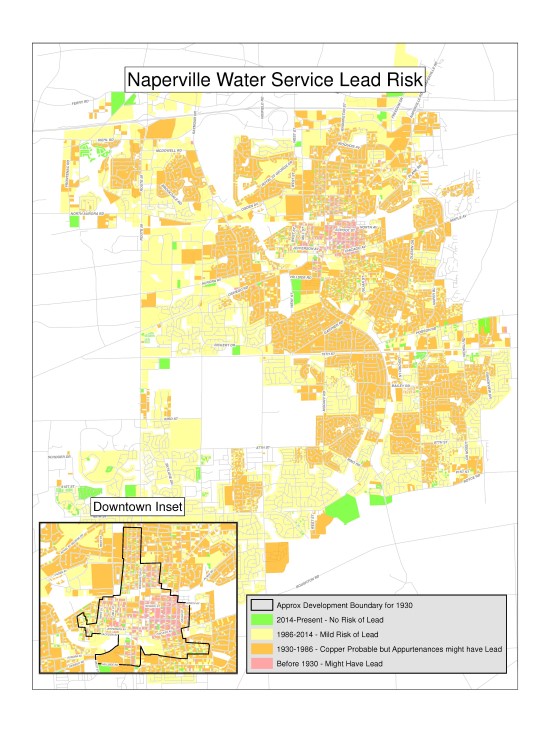 [this map is also available in printer-friendly .PDF format]
Letters were sent the week of September 26, 2016 to affected residents and businesses. Water Utility personnel will need access to residences or businesses at the location of the incoming water service and water meter to perform the inspection. The inspection will last approximately five minutes. Inspections will take place throughout autumn between 8:30 a.m. and 4 p.m., Monday through Friday until completed. For customers who will not be at home during these hours, inspections can also be scheduled until 7:30 p.m. on weekdays or on Saturdays. If you need to schedule an appointment to have an after-hours or weekend inspection at your home, please contact Monica O'Loughlin at (630) 305-3775.
This is important information for the City to have on file for notification and inventory purposes and we appreciate your assistance in this matter.
Lead Service Lines in Naperville
The History
Lead pipes were used in homes built in the early 20th century but banned in Naperville prior to 1930. Lead piping was banned nationally by the EPA in 1986 with lead content in solders and fixtures restricted to 8% lead content. In 2014, lead was banned from these items as well.
Based on these dates, we've identified boundaries in Naperville where houses were built before 1930 and 1986 on the map below for your reference.
[this map is also available in printer-friendly .PDF format]
Naperville's Water Testing Standards
The City of Naperville's water supply has consistently tested below minimum acceptable lead levels since 1997 when the City began sampling for lead under the Lead Copper Rule. Currently, sampling and testing for lead in the Public Water Supply occurs every three years, with the City's Water Utility collecting and analyzing 50 samples throughout the community for the presence of lead. The last sampling round was done in 2015 with only one sample reporting the presence of lead marginally above the detection level of 5 micrograms per liter (parts per billion (ppb)), but below the action level of 15 micrograms per liter (ppb). A record of the City's water sampling results can be viewed on the IEPA Drinking Water Watch website.
Lead 101
Knowledge is power. The City is happy to provide you with proactive tips for health and safety when it comes to your drinking water.
Determining If You Have a Lead Service Line in Your Home
If you want to know what type of service line you have, a licensed plumber can test your line to determine if it's made of lead or another material. You can find a selection of licensed plumbers in your area by visiting the Illinois Department of Public Health website and conducting a 'Plumber License Search'.
Another way to determine if the pipe coming into your home is made of lead is to carefully scratch it with a coin. If it is lead, the scratched area will turn bright silver.
Reduce Your Risk of Lead Exposure during Construction Projects in Your Neighborhood
While it is not known whether or not this particular project will affect the lead if any is present in your plumbing, here are some preventative steps you can take to minimize your risk from lead:
Consider using cold water for drinking, cooking and preparing baby formula. Lead dissolves more easily in hot or warm water. Boiling water will not remove lead.
Run your water for a few minutes to flush out lead after periods of non-use, such as first thing in the morning, after work and after a vacation.
Look for alternative sources of treated water such as bottled water or purchase a water filter that is certified to remove "total lead."
Have your water tested. Since you cannot see, taste or smell lead dissolved in water, testing is a good way of telling whether lead is present or not. While the City does not perform testing in-house, a list of laboratories closest to Naperville certified to perform the testing is shown below. You can also find an accredited laboratory near you on the Illinois Environmental Protection Agency's website.Laboratories will send you the bottles for sample collection. Please note that we are not affiliated with the laboratories and they will charge you a fee. The three certified laboratories closest to Naperville are:

Suburban Laboratories, Inc., Batavia, IL,(708) 544-3260

First Environmental Laboratories, Inc., Naperville, IL, (630) 778-1200

ARRO Laboratory, Inc., Joliet, IL, (815) 727-5436

Periodically remove and clean your faucet aerators, purchase lead-free faucet and plumbing components or replace the entire lead service line.
If you have any questions about water quality and/or lead levels, please contact the Department of Public Utilities – Water at (630) 420-6128.
Chromium-6
A recent news report discussed the presence of chromium-6 in various Chicago-area water systems. This discussion has come about due to an advisory group in California that would like to see a lower standard for that state.
Federal water quality standards do not set a limit for chromium-6 itself, but rather a "total chromium" limit of 100 parts per billion (ppb). The standard for total chromium in Illinois and many other states is also 100 ppb. Sample results from the Naperville water supply detected total chromium levels at 0.23 ppb to 0.40 ppb, which is well below both the federal and state regulatory limit of 100 ppb.
Naperville's Water Utility takes the quality of its water and all associated regulations very seriously for the benefit of our customers and is in full compliance with all federal and state standards. Our full 2015 Water Quality Report can be viewed by clicking on the "Read the 2015 Report" on the sidebar of this page.