CAPS Accepting Fire Department Nominations from the Public through October 1
The public is also invited to the October 19 recognition dinner where award recipients will be honored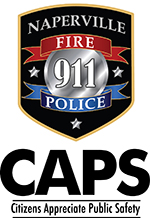 The Naperville Citizens Appreciate Public Safety (CAPS) board is currently accepting nominations from the community to recognize Naperville Fire Department personnel for outstanding service. Nominations are due by Sunday, October 1, and can be submitted by visiting www.napervillecaps.com.
CAPS is a non-profit community group that recognizes public safety personnel for their contributions to the City of Naperville. Each year, residents are asked to nominate public safety employees who have displayed an interest in Naperville's residents in a manner above and beyond the call of duty and exhibited a genuine concern for the welfare and well-being of all citizens.
"It's such a special thing for our firefighters and paramedics to be recognized for their hard work because they are so passionate and so dedicated, and they really do go above and beyond for their community," said Naperville Fire Chief Mark Puknaitis. "It's means even more when that recognition comes from the citizens, and we're grateful to the CAPS board for giving residents the opportunity to do show their appreciation for our staff in this way."
The CAPS board selects individuals from nominations submitted to receive awards during two events hosted annually, one in the spring for the Naperville Police Department and one in the fall for the Naperville Fire Department. Recognition for fire department personnel includes the George Winckler Award, a high honor presented to fire department employees who best exemplify the integrity, honesty, dedication and kindness of George Winckler, a beloved 26-year veteran of the Naperville Fire Department who passed away during a training exercise in 1991.
The Naperville Fire Department's CAPS Recognition Dinner will take place at 6 p.m. on Thursday, October 19 at Meson Sabika, 1025 Aurora Ave.
"This year we are asking the entire Naperville community to participate," said CAPS Chairman David Wentz. "They can submit a nomination for one of our CAPS awards and also purchase tickets to attend the recognition dinner. It is a fantastic event and well worth the $30."
Tickets are open to the public for $30 each and can be purchased at the Naperville Fire Department, 1380 Aurora Ave., or by calling Ruthi Sommers at (630) 305-5900.
For more information on CAPS, visit www.napervillecaps.com or www.naperville.il.us/caps.
---
About Naperville: Located 28 miles west of Chicago, Naperville, Ill., is home to approximately 145,000 people. This vibrant, thriving city consistently ranks as a top community in the nation in which to live, raise children and retire. The city is home to acclaimed public and parochial schools, the best public library system in the country, an array of healthcare options and an exceptionally low crime rate. Naperville has ready access to a variety of public transportation, housing and employment options. The city's diversified employer base features high technology firms, retailers and factories, as well as small and home-based businesses. Residents also enjoy world-class parks, diverse worship options, the opportunity to serve on several City boards and commissions, a thriving downtown shopping and dining area, a renowned outdoor history museum known as Naper Settlement and an active civic community. For more information, please visit our website at www.naperville.il.us.