City of Naperville Partners with Social App to Highlight Local Experiences
WotNow is a free app that connects residents to local events and opportunities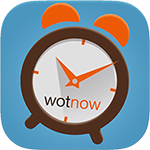 The City of Naperville has partnered with Naperville-based startup WotNow to connect residents with information about local events, programs, notifications and volunteer opportunities through a free mobile app.
Users download the free WotNow app from the Apple iTunes store or Google Play store. Once logged in, they "follow" their favorite organizations or venues and then automatically receive the events as a feed or in a calendar. Users can also "follow" interests and receive recommendations for things to do. WotNow also helps users share their interests and plans with friends, to enable group activities.
"Naperville is an extremely active city with a multitude of events and opportunities available in any given month for just about every interest," said Naperville Communications Manager Linda LaCloche. "With all of these great options available, we want to make sure our residents and visitors know about them. WotNow is a fantastic resource for just this purpose, and we're thrilled to partner with them to enhance our residents' and visitors' experiences here in Naperville."
Along with City of Naperville, Naperville Park District, Naperville Public library, Naper Settlement Museum and Naperville Chamber of Commerce have been early partners. WotNow also has events from major Naperville schools, churches and entertainment venues. It has recently expanded beyond Naperville into many Western suburbs and downtown Chicago.
"We have thousands of users just in Naperville who use the app to follow their favorite schools, churches, sports teams and businesses," said Deepa Salem, who is founder and CEO of WotNow as well as a Naperville resident. "We hope to connect society in more meaningful ways, such as by matching youth and adults with volunteer opportunities to enable them to give back with ease."
---
About Naperville: Located 28 miles west of Chicago, Naperville, Ill., is home to approximately 145,000 people. This vibrant, thriving city consistently ranks as a top community in the nation in which to live, raise children and retire. The city is home to acclaimed public and parochial schools, the best public library system in the country, an array of healthcare options and an exceptionally low crime rate. Naperville has ready access to a variety of public transportation, housing and employment options. The city's diversified employer base features high technology firms, retailers and factories, as well as small and home-based businesses. Residents also enjoy world-class parks, diverse worship options, the opportunity to serve on several City boards and commissions, a thriving downtown shopping and dining area, a renowned outdoor history museum known as Naper Settlement and an active civic community. For more information, please visit our website at www.naperville.il.us.