Temporary Lane Closures on Washington Street Begin in June
Ongoing Work Related to Second Phase of Centralized Traffic Management System Installation
Beginning in June, temporary rolling lane closures will occur along portions of Washington Street to allow for the installation of adaptive traffic signal control equipment related to the second phase of the City's Centralized Traffic Management System project.
Weather depending, work will take place from 9 a.m. to 3 p.m. Monday through Friday along Washington Street between Warrenville and Royce roads. At least one lane of traffic will be maintained in each direction at all times; work is anticipated to last approximately four months. Motorists are urged to use caution and allow additional time when traveling in this area.
Completion of phase one in January 2016 created more consistent synchronization for signals located along Washington Street, as well as made it possible for City staff to collect more traffic data and receive automated notifications when traffic signals in this area malfunction. Upon completion of phase two, traffic signals along Washington Street will be able to continuously monitor real-time traffic conditions and make additional adjustments to optimize the operation of the traffic signal system based on current conditions. (See traffic signal system map below.) As a result, traffic in this heavily traveled corridor will flow better during larger special events or other variable periods.
Additional work related to the project may occur in the parkway along the entire length of Washington Street but is not anticipated to significantly disrupt motorists, businesses or residences in the area. For more information or project updates, visit www.naperville.il.us/ctms.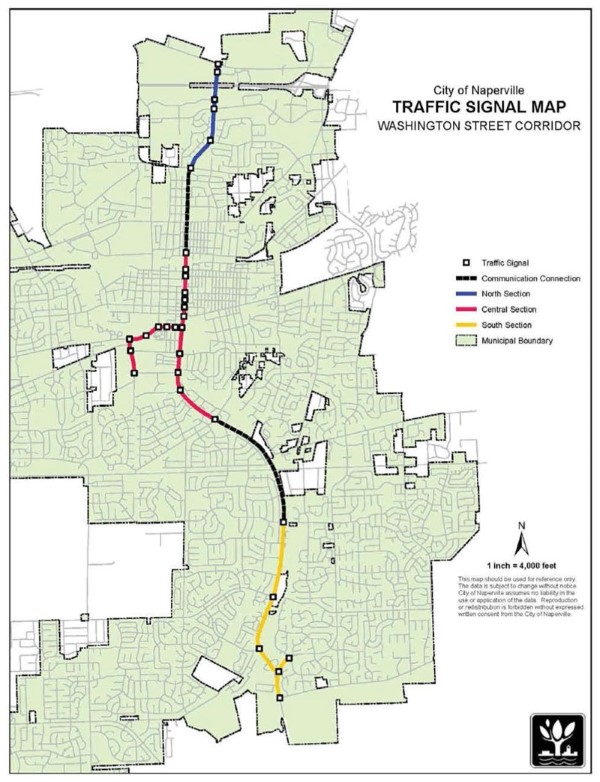 ---
About Naperville: Located 28 miles west of Chicago, Naperville, Ill., is home to approximately 145,000 people. This vibrant, thriving city consistently ranks as a top community in the nation in which to live, raise children and retire. The city is home to acclaimed public and parochial schools, the best public library system in the country, an array of healthcare options and an exceptionally low crime rate. Naperville has ready access to a variety of public transportation, housing and employment options. The city's diversified employer base features high technology firms, retailers and factories, as well as small and home-based businesses. Residents also enjoy world-class parks, diverse worship options, the opportunity to serve on several City boards and commissions, a thriving downtown shopping and dining area, a renowned outdoor history museum known as Naper Settlement and an active civic community. For more information, please visit our website at www.naperville.il.us.