Naperville Police Plan Increased Patrols During Busy Thanksgiving Week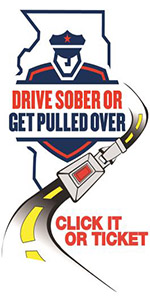 The Naperville Police Department and law enforcement agencies throughout Illinois will be working around the clock through Thanksgiving and the remainder of the year to make certain that travelers are buckled up and driving sober.
Naperville Police Department is joining the Illinois Department of Transportation (IDOT), the Illinois State Police and nearly 200 local police and sheriff's departments to remind motorists to Click It or Ticket and Driver Sober or Get Pulled Over.
Drivers and passengers can expect a ticket from Naperville Police if they are spotted without a seat belt or with an unbuckled child in their vehicle. Additionally, motorists are being warned that driving after drinking or using drugs or other impairing substances will not be tolerated. Stepped-up patrols including seat belt enforcement zones will be seen throughout Naperville and the state.
The goal is simple: Prevent motor vehicle crashes and resulting injuries. Correct seat-belt use is the most effective way to protect vehicle occupants in a crash. According to IDOT, the statewide seat-belt usage rate is 95.2 percent, yet unbuckled occupants make up a disproportionately large number of fatalities, representing more than 50 percent of people killed in motor vehicle crashes.
"Wearing your seat belt is second nature for most, but we're looking for the few Illinois motorists who skip this lifesaving step," said Naperville Police Sgt. Derek Zook. "During Thanksgiving weekend and throughout the year, motorists on Naperville roads can expect to be ticketed if they are unbelted."
Statistics show that nighttime driving comes with an increased risk for injury or death. Evening hours account for a higher percentage of impaired driving crashes, a higher percentage of fatalities, and a lower percentage of occupants wearing seat belts.
"We need our community to understand: It's up to them to make the smart decision to drive sober – during Thanksgiving, throughout the holidays and every day," said Sgt. Zook. "Impaired driving remains a huge problem in Illinois and our country, and if arresting someone is what it takes to stop this deadly crime, so be it. Drive sober to help us put an end to these senseless crashes."
The Click It or Ticket and Drive Sober or Get Pulled Over enforcement effort is funded with federal highway safety funds administered by the Illinois Department of Transportation.
---
About Naperville: Located 28 miles west of Chicago, Naperville, Ill., is home to approximately 145,000 people. This vibrant, thriving city consistently ranks as a top community in the nation in which to live, raise children and retire. The city is home to acclaimed public and parochial schools, the best public library system in the country, an array of healthcare options and an exceptionally low crime rate. Naperville has ready access to a variety of public transportation, housing and employment options. The city's diversified employer base features high technology firms, retailers and factories, as well as small and home-based businesses. Residents also enjoy world-class parks, diverse worship options, the opportunity to serve on several City boards and commissions, a thriving downtown shopping and dining area, a renowned outdoor history museum known as Naper Settlement and an active civic community. For more information, please visit our website at www.naperville.il.us.