Successful Click It or Ticket Campaign Reminds Motorists to Buckle Up or Pay the Price
Naperville Police issued 32 seat belt citations during campaign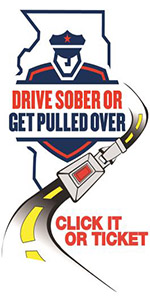 Between May 18 and May 29, Naperville Police Department participated in the annual Click It or Ticket high-visibility seat belt enforcement campaign, bringing awareness to area motorists and writing 32 citations for seat belt violations in the process.
The campaign, which coincided with one of the busiest holiday weekends of the year, sought to stress the importance of seat belt use through enforcement and community outreach.
"It was a successful campaign, and we believe through our enforcement efforts, we helped save lives and raise awareness in our community," said Naperville Police Sgt. Derek Zook. "We know seat belts save lives in vehicle crashes. Issuing tickets was not our goal, but it was a way to remind people of the importance of such a simple action."
Illinois' seat belt use rate is 93.8 percent, but unbelted occupants disproportionately account for over half of those killed in traffic crashes. This Click It or Ticket campaign aims to change the behavior of the millions of people who still don't buckle up. Thousands of lives could be saved each year if every vehicle occupant was properly restrained when traveling on the road.
During the 11-day mobilization, Naperville Police issued:
32 seat belt citations
51 speeding citations
3 uninsured motorist citations
1 suspended/revoked license citation
Officers also made eight (8) arrests for driving under the influence (DUI) during this campaign.
For more information on the Click It or Ticket mobilization, visit www.BuckleUpIllinois.org.
---
About Naperville: Located 28 miles west of Chicago, Naperville, Ill., is home to approximately 145,000 people. This vibrant, thriving city consistently ranks as a top community in the nation in which to live, raise children and retire. The city is home to acclaimed public and parochial schools, the best public library system in the country, an array of healthcare options and an exceptionally low crime rate. Naperville has ready access to a variety of public transportation, housing and employment options. The city's diversified employer base features high technology firms, retailers and factories, as well as small and home-based businesses. Residents also enjoy world-class parks, diverse worship options, the opportunity to serve on several City boards and commissions, a thriving downtown shopping and dining area, a renowned outdoor history museum known as Naper Settlement and an active civic community. For more information, please visit our website at www.naperville.il.us.