Naperville Police Department is Cracking Down on Drunk and Drugged Driving this Halloween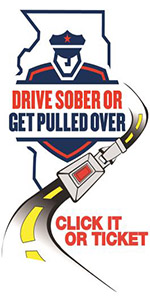 The Naperville Police Department is urging motorists to commit to sober driving this Halloween when children and their families will be walking through neighborhoods after dark in search of candy and spooky fun. If you will be out scaring up a good time, remember to plan for a sober ride home.
"Even one drink can impair your ability to make responsible decisions," said Naperville Police Sgt. Derek Zook. "That's why it is so important to know how you'll get home before you leave for the party. We urge you to plan ahead to help keep yourself and others safe."
Impaired drivers should never get behind the wheel. It is illegal in Illinois to drive impaired by alcohol, drugs or any other substance. Remember: DUIs are not restricted to alcohol-related offenses. If you drive high, you'll get a DUI.

Naperville Police urge everyone to follow these simple tips to help keep our roads safe this Halloween:
Plan a safe way to get home before you attend a party.
Designate a sober driver, take public transportation, use your favorite ride-sharing service or call a sober friend or family member to get home.
Walking while impaired can be just as dangerous as driving impaired. Designate a sober friend to walk you home.
If you see an impaired driver on the road, contact local law enforcement as soon as it is safe to do so.
If you see an impaired person about to drive, take their keys and help them get home safely.
The Halloween enforcement effort is made possible by federal traffic safety funds administered by the Illinois Department of Transportation.
---
About Naperville: Located 28 miles west of Chicago, Naperville, Ill., is home to approximately 145,000 people. This vibrant, thriving city consistently ranks as a top community in the nation in which to live, raise children and retire. The city is home to acclaimed public and parochial schools, the best public library system in the country, an array of healthcare options and an exceptionally low crime rate. Naperville has ready access to a variety of public transportation, housing and employment options. The city's diversified employer base features high technology firms, retailers and factories, as well as small and home-based businesses. Residents also enjoy world-class parks, diverse worship options, the opportunity to serve on several City boards and commissions, a thriving downtown shopping and dining area, a renowned outdoor history museum known as Naper Settlement and an active civic community. For more information, please visit our website at www.naperville.il.us.