New Program Allows Residents to Provide Critical Information to Naperville's First Responders Before an Emergency Strikes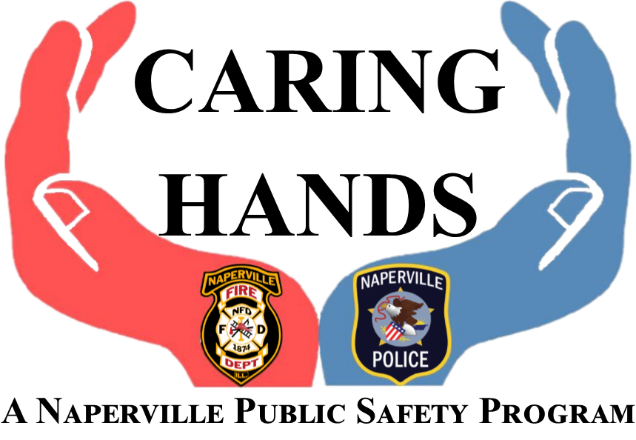 Residents who may require special assistance during an emergency are encouraged to consider providing Naperville first responders details of their specific needs before an emergency situation through the new Caring Hands program.
This voluntary program offers residents with developmental, intellectual, medical or physical disabilities the ability to provide critical information, such as methods of communication, sensory and medical issues, de-escalation techniques, etc., to Naperville's first responders. This information will be added to Naperville's public safety database and will appear on 9-1-1 call-takers' screens any time a call for police, fire or emergency medical services is received related to the participating resident's name, address or vehicle.
Firefighters, paramedics and police officers can then use that knowledge of specific physical, behavioral or psychological conditions to better serve the participating resident when responding to an emergency.
"When emergencies happen, seconds count," said Naperville Fire Chief Mark Puknaitis. "The more information we as first responders have going into an emergency situation, the more swiftly and effectively we'll be able to respond and provide the best possible care to the individual while taking into account their specific needs."
"This program is one more way the Naperville Police and Fire Departments are enhancing the quality of service we provide to residents," said Naperville Police Chief Robert Marshall. "By learning of special circumstances and needs before an emergency, our first responders are able to provide more individualized care for residents who may not be able to communicate their needs to us during an emergency."
Caring Hands is a voluntary program. Information can be submitted by the individual with the specific need, their parent/guardian, foster family, legal representative or legal guardian. For more information or to download an application, visit www.naperville.il.us/caringhands.
---
About Naperville: Located 28 miles west of Chicago, Naperville, Ill., is home to approximately 145,000 people. This vibrant, thriving city consistently ranks as a top community in the nation in which to live, raise children and retire. The city is home to acclaimed public and parochial schools, the best public library system in the country, an array of healthcare options and an exceptionally low crime rate. Naperville has ready access to a variety of public transportation, housing and employment options. The city's diversified employer base features high technology firms, retailers and factories, as well as small and home-based businesses. Residents also enjoy world-class parks, diverse worship options, the opportunity to serve on several City boards and commissions, a thriving downtown shopping and dining area, a renowned outdoor history museum known as Naper Settlement and an active civic community. For more information, please visit our website at www.naperville.il.us.