Naperville Police Remind Motorists: Buzzed Driving is Drunk Driving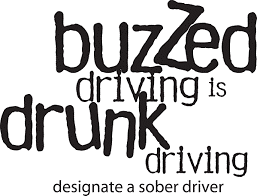 This year's St. Patrick's Day celebrations may still look a little different than usual because of the pandemic, but however you celebrate, make sure you and your friends stay safe by remembering that Buzzed Driving Is Drunk Driving.
This means that if you plan to drink any alcoholic beverage, it is essential that you plan for a sober designated driver beforehand. To help keep your community safe, the Naperville Police Department is teaming up with the U.S. Department of Transportation's National Highway Traffic Safety Administration (NHTSA) to spread the message about the dangers of drunk driving. Even one drink can be one too many.
"We understand people are looking for a reason to celebrate, and we want our community members to enjoy St. Patrick's Day, but we also want to impress upon everyone the importance of safe driving," said Naperville Police Sgt. Rick Krakow. "If you've been drinking, make the right choice to find a sober driver to get you and your friends home safely. Before you put your keys in the ignition, remind yourself: Buzzed Driving Is Drunk Driving."
According to NHTSA, 10,142 people were killed in drunk-driving crashes in 2019. On average, more than 10,000 people were killed each year from 2015 to 2019 — one person was killed in a drunk-driving crash every 52 minutes in 2019. This is why the Naperville Police Department is working with NHTSA to remind drivers that drunk driving is not only illegal, it is also a matter of life and death.
During the 2019 St. Patrick's Day weekend alone (6 p.m. March 16 to 5:59 a.m. March 18), more than three out of five (63%) crash fatalities involved a drunk driver, according to NHTSA. In fact, from 2015 to 2019, a total of 280 lives were lost in drunk-driving crashes during the St. Patrick's Day period.
"Drunk drivers are a continuing problem on our nation's roads, especially around days like St. Patrick's Day," said Sgt. Krakow. "People need to know that they can go out for a night of fun and return home safely by ensuring they have a sober driver take them home. Don't be the reason someone — including yourself — doesn't get home. Don't let St. Patrick's Day become an anniversary of a tragic night."
If you're the designated driver, make sure you keep that promise of safety to yourself and your passengers. Take the role of designated driver seriously — your friends and family, other drivers, passengers, and pedestrians are relying on you.
For more information about the Buzzed Driving Is Drunk Driving campaign, visit https://www.nhtsa.gov/risky-driving/drunk-driving.
---
About Naperville: Located 28 miles west of Chicago, Naperville, Ill., is home to approximately 145,000 people. This vibrant, thriving city consistently ranks as a top community in the nation in which to live, raise children and retire. The city is home to acclaimed public and parochial schools, the best public library system in the country, an array of healthcare options and an exceptionally low crime rate. Naperville has ready access to a variety of public transportation, housing and employment options. The city's diversified employer base features high technology firms, retailers and factories, as well as small and home-based businesses. Residents also enjoy world-class parks, diverse worship options, the opportunity to serve on several City boards and commissions, a thriving downtown shopping and dining area, a renowned outdoor history museum known as Naper Settlement and an active civic community. For more information, please visit our website at www.naperville.il.us.