Naperville Heights Water Main Replacement Project
This summer and fall, the City of Naperville is conducting a water main replacement project in the Naperville Heights neighborhood north of the downtown core. Work to replace 4-inch-diameter water mains installed in the 1930s and 1940s with modern, 8-inch-diameter mains is underway on the following streets:
Webster Street from Ogden Avenue north to Bauer Road
Main Street from Ogden Avenue north to its end
14th Avenue from Eagle Street to Washington Street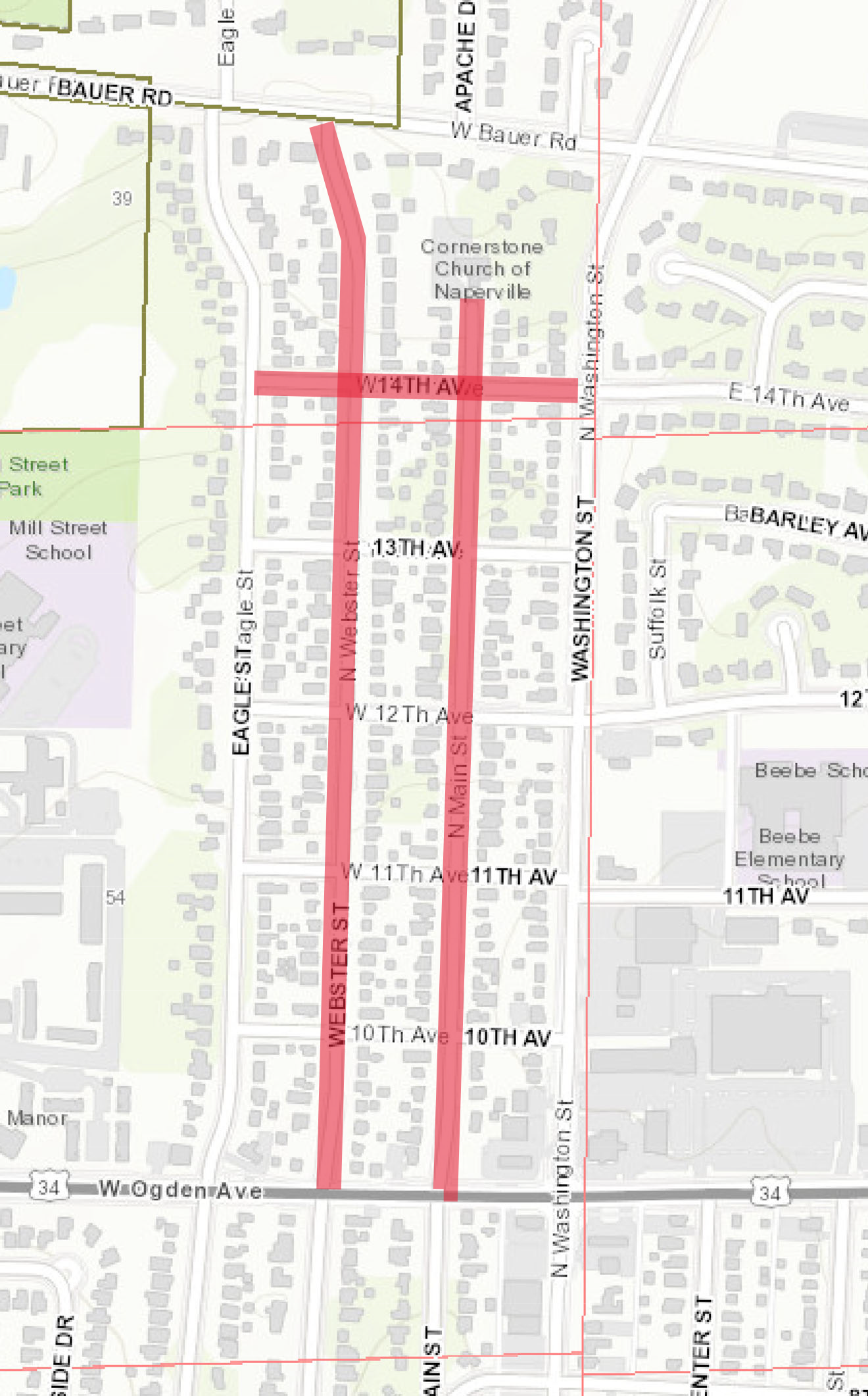 The City also is replacing lead service lines to about 30 homes within the project area at no cost to residents. This will improve service and alleviate any health risks that can come from lead pipes.
Replacing these aging and functionally deficient water mains will increase fire hydrant flows and provide a consistent level of service for residents in the neighborhood.
Construction Impacts and Accessibility
Webster and Main Streets: New, 8-inch-diameter water mains will be installed in the east parkway.
14th Avenue: New, 8-inch-diameter water main will be installed in the north parkway.
Entire Work Zone: Streets in Naperville Heights will remain open to local traffic, deliveries and emergency vehicles throughout the duration of this project. Driveways will be accessible during the work day, aside from temporary disruptions related to installation and water service connections. Any trenches contractors dig across driveways will be filled with stone and made accessible by the end of the work day at 6 p.m. or sooner. Delivery of mail and other items and pick-up of garbage and recycling will not be affected.
Please note: We will do our best to minimize the impact of this work, but construction of this type involves some level of inconvenience. Every effort will be made to keep streets within the project area accessible; however, residents should expect temporary delays as well as intermittent lane closures and intersection closures when moving through the construction zone.
Residential Water Service Impacts
Water mains will remain in service at all times, except in case of emergency. Water service disruptions to individual homes will be limited to a single shut-down for 30 minutes to allow for the transfer of the residential water service from the old main to the new.
Timeline

The City Council approved a contract with Copenhaver Construction on May 18, 2021.

Work began on June 16 and is scheduled to take place throughout the summer and fall, weather-permitting.

The project is anticipated to be complete by late November.
Questions?

If you have questions or need further information, please contact Josh Strait, Senior Civil Environmental Engineer – Water Utilities, at (630) 305-5373 or straitj@naperville.il.us. To receive notifications regarding this project via Naper Notify, which delivers messages through a phone call, text message, email or smart phone app, visit www.napernotify.com.