Diversity, Equity and Inclusion
Over the last several years, many community and non-profit organizations have been formed and are doing great work to raise awareness about diversity and the importance of inclusive communities – in Naperville and beyond. As the framework begins to take shape, it is important to identify synergies and gaps within the initiatives already happening in Naperville, as well as connect the dots to help produce a combined effect greater than the sum of the many separate efforts. Connection and collaboration strengthen community and enhance inclusivity, making it important to also invite Naperville youth to get involved with future diversity initiatives at the City level.
Meet Dr. Geneace Williams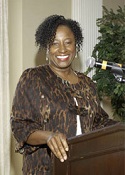 In February 2021, the City of Naperville welcomed Dr. Geneace Williams as the City's first Diversity, Equity and Inclusion (DEI) Manager. In the months since, much of Dr. Williams' time onboard has been spent educating herself about Naperville and getting to know its many facets.
Through listening sessions, Dr. Williams has been able to meet employees, community leaders, members of organizations, and residents to glean diverse perspectives on Naperville. Understanding the history and culture of an organization or entity is a critical component to a successful journey in diversity work. Tying DEI to the City's 2019 revised mission statement that emphasizes diversity and inclusiveness in our community will keep focus on achieving this important City endeavor.
Definitions
Diversity – Respecting the value in difference (traits and characteristics that make people unique) while appreciating many perspectives offer greater opportunities for success.
Equity – Access to opportunity and resources with a clear understanding of the current equity gap and the negative impact on not only the most vulnerable populations, but also all persons.
Inclusion – Creating an (authentic and transparent) environment wherein people feel/are valued and welcomed.
Belonging – "The feeling of security and support when there is a sense of acceptance, inclusion, and identity for a member of a certain group. It is when an individual can bring their authentic self to work. (Cornell University)
Timeline
What's Next?