Environmental Sustainability
Celebrate Earth Week Naperville!
Earth Day Fair, April 22, 12-4pm, Fort Hill Activity Center
Arbor Day Tree Sale, April 28, 8-12pm, Public Works Service Center
Take the Water Conservation Pledge - click here to pledge!
Prescription Drug Drop Off, April 28, 10am-2pm, Naperville Police Department
Climate Change Town Hall Featuring Tom Skilling, April 28, 1-2:30pm, Naperville Central High School
Volunteer service projects available at various locations across the City.
For more information on these events and more visit: www.napervilleparks.org/earthweek
To provide services that ensure a high quality of life for our residents and a dynamic environment for our business community through collaboration, innovation, and sound fiscal management.
Sustainable approaches to providing local government services helps to ensure a higher quality of life for future generations. True to its mission, Naperville's sustainability successes have largely been achieved through many partnerships with organizations, businesses and residents. Likewise, a willingness to pursue innovative sustainable solutions have repeatedly resulted in cost efficiencies in line with the City's sound fiscal management philosophy.
Does Your Business Have a Refillable Water Station?
As you are looking to make more sustainable design choices (e.g. LED lighting, water saving fixtures, solar applications, etc.), have you considered replacing your drinking fountain with a refillable water station? This simple and relatively inexpensive change can make a positive difference in your environmental footprint. Installations are popping up across Naperville as our schools, Park District and businesses seek to be more sustainable.
Looking for Data?
In 2010, the Naperville City Council approved the Environmental Sustainability Plan. The plan established a long-term vision for environmental sustainability in Naperville and serves as a guide for the city's actions related to environmental leadership and initiatives.
Since approving the plan, Naperville has implemented a number of initiatives and programs that continue to positively impact the community and environment. The efforts of the City are documented through the annual sustainability report available on this page.
Sustainability Report - New and improved format coming soon!
Over the last seven years, the annual report of sustainability efforts by the City of Naperville has evolved. What was once a simple memo was transformed into a colorful, magazine-styled report in 2013. The report focuses on providing metrics to understand the impact of sustainability efforts in terms of fiscal benefits, natural resource benefits, energy savings and more.
Beginning in Spring 2018, the report is migrating to the City's Open Data Portal. This move is in concert with the City of Naperville's commitment to the use of data and evidence to improve services, inform local decision-making and engage residents. The new format provides the public with raw data in addition to a dashboard monitoring the progress of our performance management goals. All the same categories of information that have been reported since 2010 are included in the portal. Two important benefits of this format include:
Ability to update the data more frequently than an annual report
Access to raw data for those who want to further analyze the information
The conversion effort is currently in progress. Look for the information to be available in the spring of 2018.
News
Earth Week Naperville coming April 21-28, 2018!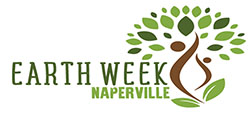 Earth Day and Arbor Day anchor "Earth Week Naperville," a community-wide volunteer event that is making great strides in making a positive difference in our community.
In 2017, at the very first Earth Week Naperville, hundreds of residents took advantage of educational and volunteer opportunities across the city. Organized in partnership with 12 contributing organizations and four sponsors, the inaugural event was quite successful in raising community awareness and volunteerism.
Earth Week Naperville 2018 will be April 21-28. How can you take part?
Attend the Earth Day Fair (or become a sponsor) on Sunday, April 22 from 12:00-4:00 at the Fort Hill Activity Center located at 20 Fort Hill Drive. This is a free, family-friendly event!
Sign up to volunteer for the weekly activities at Earth Week Naperville by visiting here.
Participate in the Arbor Day tree sale.
Stop by the Naperville Central High School Auditorium - Door #14, 440 W. Aurora Avenue, on Saturday, April 28, 2018 from 1 p.m.-2:30 p.m. for an interactive presentation and visit with Tom Skilling, chief meteorologist from WGN-TV. This event is free, however tickets are required as seating is limited. Tickets for the general public will be posted on April 22 at www.napervilleparks.org/earthweek

.

Purchase a rain barrel for pick up at the Arbor Day tree sale!
Save Water and Save Money with a Rain Barrel
Did you know the average rainfall of one inch within a 24-hour period can produce more than 700 gallons of water that runs off the roof of a typical house? A rain barrel can help you collect and re-use this natural resource for watering your plants or washing your car. To order a rain barrel of your own for pick-up or delivery, visit Upcycle Products.
You may also visit the Arbor Day Tree Sale on Saturday, April 28, 2018, to pick up a rain barrel. Orders should be place online with Upcycle prior to the event.
National Medication Disposal Event
Turn in unused or expired medication on Saturday, April 28, 2018 from 10 a.m. to 2 p.m. at the Naperville Police Department located at 1350 Aurora Avenue. Please bring your over-the-counter or prescription medication in a plastic bag for disposal. Liquids, needles or inhalers are not accepted. Your efforts will reduce the chance of drugs being improperly disposed (e.g. flushed) thereby contaminating water sources. For more information, call 630-420-6667.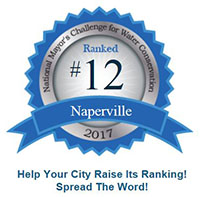 Let's improve our ranking for 2018! Mayor Steve Chirico joined mayors across the country in asking residents to make a long-term commitment to manage water resources more wisely by taking part in the annual Wyland National Mayor's Challenge for Water Conservation. Residents are encouraged to make pledges from April 1-April 30, 2018.
In 2017, Naperville ranked #12 in our population category of the Wyland National Mayor's Challenge for Water Conservation!
The Wyland National Mayor's Challenge for Water Conservation is happening now! Tell your friends, families, neighbors and businesses to make a pledge for water conservation on behalf of your city from April 1-30. Plus, you could win up to $50,000 in eco-friendly prizes, including $5,000 toward your home utilities for a year and a 2018 Toyota RAV 4 Hybrid for a deserving charity in your area.
Educational Seminar: Rain Barrels - Rain Gardens and help solving water issues in your yard
Everyone is welcome to attend an educational seminar presented by Jim Kleinwachter of the Conservation Foundation. This seminar will take place on Wednesday, May 16, 2018, from 7 p.m. to 8 p.m. at the Naperville Municipal Center, 400 S Eagle St., in Meeting Room B. The presentation is expected to last about 45 minutes with 15 minutes of Q&A at the end. We hope to see you there!
Pollination Station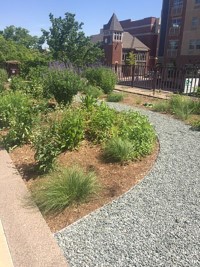 The City of Naperville is proud to have planted a pollination station in a plot of land above the east entrance to the lower level of the Municipal Center. This garden features a variety of native plant species that can offer a habitat for butterflies and other pollinators. This demonstration garden is a way to educate our community on the benefits of alternate landscaping options and inspire them to learn more about this type of gardening.
Learn about Naperville's Pollination Station
A Beautiful Yard without Pesticides
Studies show that use of lawn chemicals can have environmental ramifications, especially for children. The chemicals can potentially contaminate surface and groundwater, affect outdoor and indoor air quality, and threaten the health of pets and wildlife. Have you considered alternative approaches, such as:
Leave grass clippings on the lawn to act as a natural fertilizer.
Overseed to fill in existing bare spots in the late summer or early fall. This approach will prevent weeds from taking over these spaces in the spring.
Aerate your soil to facilitate healthy grass growth.
Keep your mower blade setting at least 2-3 inches tall to allow your grass to developer deeper, more drought resistant roots.
Monarch Waystation
The monarch migration is truly one of the world's greatest natural wonders. Did you know that the monarch butterfly is in desperate need of habitats to lay its eggs? The City of Naperville would like to encourage residents to plant monarch waystations in their own backyards. If your monarch habitat meets or exceeds the general description of a Monarch Waystation set forth below, your habitat may be certified by Monarch Watch as a Monarch Waystation. You may also choose to purchase a weatherproof sign to display, identifying your habitat as an official Monarch Waystation. See the Monarch Waystation tips (PDF) for more information.