Environmental Sustainability
In 2010, the Naperville City Council approved the Environmental Sustainability Plan. The plan established a long-term vision for environmental sustainability in Naperville and serves as a guide for the city's actions related to environmental leadership and initiatives.
The framework of the plan is organized around five categories including Leadership & Education, Resources & Energy, Transportation and Mobility, Waste Management and Recycling and Sustainable Development and Infrastructure. The categories were developed following an environmental sustainability inventory report in 2007.
Since approving the plan, Naperville has implemented a number of initiatives and programs that positively impacted the community and environment. The efforts of the City are documented in an annual sustainability report.
News
Save Water and Save Money with a Rain Barrel
Did You Know?
The average rainfall of one inch within a 24-hour period can produce more than 700 gallons of water that runs off the roof of a typical house. A rain barrel can help you collect and re-use this natural resource for watering your plants or washing your car. To order a rain barrel of your own for pick-up or delivery, visit Upcycle Products.
You may also visit the Arbor Day Tree Sale on Saturday, April 28, 2018, to pick up a rain barrel. Orders should be place online with Upcycle prior to the event.
Your New Year's Resolution: A Low Salt Diet
Make the diet you resolve to keep this New Year's a low-salt one. Chlorides, including the salts we use to melt ice in winter, are a major contributor to nonpoint-source pollution in our area. Committing to reducing our salt use during the snowy and icy months ahead is good for our pocketbooks and our environment!
Chlorides may become diluted, but they never degrade or break down in the environment; one tablespoon of salt contaminates 5 gallons of water which has an immediate negative impact on fish (acute threshold). Chlorides produce a salty taste in drinking water, cause adverse growth effects on vegetation, are harmful to aquatic life, and are corrosive to our vehicles, roads, parking lots and sidewalks.
You can make small changes for managing your property during snow events to help maintain and improve our water resources:
Shovel (or use a snow blower) before you use any product; never put a deicing product on top of snow.
Adopt the "Just Enough" principle, putting down just enough to keep high traffic areas clear of ice.
Sweep up un-dissolved product after a storm is over for reuse.
Consider switching to a non-chloride deicer.
Support changes in chloride application in your municipality.
To view a fact sheet from the DuPage River Salt Creek Workgroup, please click here.
First-Ever Naperville Earth Week was a huge success!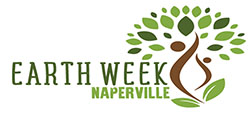 Earth Day and Arbor Day anchored "Earth Week Naperville," a community-wide volunteer event that made great strides in making a positive difference in our community.
Hundreds of residents took advantage of educational and volunteer opportunities across the city during this special week. Organized in partnership with 12 contributing organizations and four sponsors, this inaugural event was quite successful in raising community awareness and volunteerism. As a part of the program, the City of Naperville Public Works held the 27th annual Arbor Day tree sale with over 497 trees sold and 300 live souvenir trees distributed. The Conservation Foundation was on hand to distribute pre-purchased rain barrels. Thank you to the almost 1,000 volunteers, logging over 1,300 service hours, who did their part to make Earth Week Naperville a success!
Earth Week Naperville 2018 will be April 21-28. Check back to sign-up for events and volunteer opportunities in early 2018.
National Mayor's Challenge for Water Conservation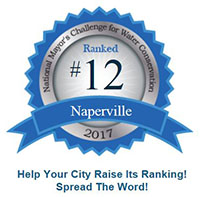 Mayor Steve Chirico joined mayors across the country in asking residents to make a long-term commitment to manage water resources more wisely by taking part in the annual Wyland National Mayor's Challenge for Water Conservation. Residents were able to make pledges from April 1-April 30, 2017.
The results are in! Naperville ranked #12 in our population category of the 2017 Wyland National Mayor's Challenge for Water Conservation!
Thank you to everyone who participated and made the pledge to help Naperville become a water and energy saving community! The competition mode is over, but you and your family can still make a pledge that lasts all year long! Make a pledge at www.mywaterpledge.com from now until March 31, 2018 and you'll be entered to win a piece of art picked out by marine life artist and conservationist Wyland.
Pollination Station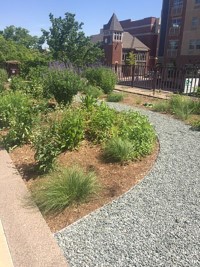 The City of Naperville is proud to have planted a pollination station in a plot of land above the east entrance to the lower level of the Municipal Center. This garden features a variety of native plant species that can offer a habitat for butterflies and other pollinators. This demonstration garden is a way to educate our community on the benefits of alternate landscaping options and inspire them to learn more about this type of gardening.
Learn about Naperville's Pollination Station
A Beautiful Yard without Pesticides
Studies show that use of lawn chemicals can have environmental ramifications, especially for children. The chemicals can potentially contaminate surface and groundwater, affect outdoor and indoor air quality, and threaten the health of pets and wildlife. Have you considered alternative approaches, such as:
Leave grass clippings on the lawn to act as a natural fertilizer.
Overseed to fill in existing bare spots in the late summer or early fall. This approach will prevent weeds from taking over these spaces in the spring.
Aerate your soil to facilitate healthy grass growth.
Keep your mower blade setting at least 2-3 inches tall to allow your grass to developer deeper, more drought resistant roots.
Monarch Waystation
The monarch migration is truly one of the world's greatest natural wonders. Did you know that the monarch butterfly is in desperate need of habitats to lay its eggs? The City of Naperville would like to encourage residents to plant monarch waystations in their own backyards. If your monarch habitat meets or exceeds the general description of a Monarch Waystation set forth below, your habitat may be certified by Monarch Watch as a Monarch Waystation. You may also choose to purchase a weatherproof sign to display, identifying your habitat as an official Monarch Waystation. See the Monarch Waystation tips (PDF) for more information.