Curbside Recycling Program
Garbage/Recycling Collection Delays Due to Thanksgiving
Curbside garbage, yard waste and recycling will not be picked up on Thursday, Nov. 23, due to the Thanksgiving holiday. Collection will take place one day later for the remainder of the week.
When is my garbage and recycling collection day?
View Map
Naperville's recycling contractor, Republic Services, provides weekly collection of recyclables. If you have questions about recyclable materials, please call Republic Services at (630) 892-9294.
Your Recycling Service
The following items are recyclable:
Newspaper
Advertisements
Junk mail
Magazines
Catalogs
Phone books
Books (notebooks, novels, hard or soft textbooks; residents are encouraged to donate items in good condition)
Office paper
Post-It Notes™
Gift wrap
Paper bags
Chipboard boxes like gift boxes, tissue boxes and cereal boxes
Corrugated cardboard boxes, including frozen food boxes
Glass bottles and jars
Aluminum cans, foil and trays
Tin or steel cans, including empty aerosol cans and paint cans
Plastic containers numbered 1, 2, 3, 4, 5 and 7 (#6 not accepted)
Plastic 6-pack pings
Milk cartons and drink boxes
Shredded paper (must be placed in clear plastic bags only)
Clear plastic bags of shredded paper must contain only paper. Cards or other plasticized material contaminates the product.
Recycling Cart Program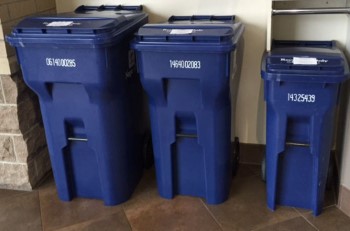 Naperville has a recycling cart program for its residents served by the curbside recycling program. These carts are made of a sturdy commercial-grade plastic with wheels for easy movement and hinged lids to contain items and minimize animal pilferage and blowing trash. They offer residents a clean and convenient way to dispose of recyclables and increase their recycling capacity.
Carts come in three sizes:
96 gallons (holds 6 standard kitchen-size bags, measures 46" H x 26" W x 35" D) - $57
64 gallons (holds 4 standard kitchen-size bags, measures 42" H x 24" W x 27" D) - $47
32 gallons (holds 2 standard kitchen-size bags, measures 38" H x 19" W x 24" D) - $39
These sizes work with the automated hauling process and also guarantee there will not be confusion between recycling and garbage collection since these services occur on the same day.
Republic Services allows residents to use other containers for recycling if they are equipped with a metal bar allowing for automated pick-up and if it is clearly marked as a recycling container. Neither the City of Naperville or Republic Services will be responsible for any damages that occur if residents choose to use a non-City issued cart.
Also note that by using a non-City issued recycling cart, it increases the potential for the City's hauler to miss picking up your recyclables as drivers will be looking for a City-issued blue recycling cart.
Purchase a Recycling Cart
Sizes for both recycling and garbage carts are listed in the form below.
To have your carts delivered to your home, please select "One-Time Delivery Charge." This charge will only be assessed once regardless of the number of carts you purchase.
To order more than one item, select your first item and click Add to Cart. Once on the Paypal Checkout page, click the Continue Shopping link near the top right of the page to return here and select more items.
If you discover you have the wrong size cart for your needs, please contact the Department of Public Works at (630) 420-6095 within 30 days of receiving your cart. A charge associated with cart exchanges may apply.
Please note that the form below can be used to order both recycling and garbage carts.
Verify your Shipping Address before completing your order.
Collection Guidelines
Place recycling carts on the side of the driveway opposite from garbage collection cans and yard waste.
Mixed paper may be placed in a separate bin or paper bag. Do not tie the paper into bundles or place recycling in plastic bags.
All containers should be rinsed out, but labels do not need to be removed. Please remember:
Styrofoam products are not included in the curbside recycling program.

Packing peanuts can be recycled at some local mailing or shipping establishments. Dart Container Corporation

in North Aurora operates a polystyrene foam (styrofoam) drop-off recycling site for foam cups and containers, foam egg cartons, meat trays and most packaging foam. They do not accept packing peanuts.

Plastic bags may be recycled at some local grocery stores.

Use the Household Hazardous Waste drop-off site for recycling oil-based and alkyd paint, household chemicals, fluorescent bulbs, pesticides and automotive fluids.