Senior Task Force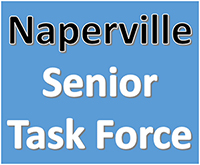 The Senior Task Force, which was established at the direction of the 2014 Naperville City Council, is helping address the unique needs of Naperville's growing senior population. As of the most recent census in 2010, more than 12,000 Naperville residents were over the age of 65, which accounts for almost 9 percent of the City's population.
This group promotes coordination among existing senior service providers in the Naperville area; improves awareness among seniors of available resources to assist them; and develops recommendations to address service gaps related to transportation challenges, housing concerns and healthcare resources.
To ensure seniors' needs are being met, the task force will also work with service providers to promote efficiencies and new partnerships that address local needs. The group will also proactively reach out to seniors for their thoughts and ideas via interviews, workshops, focus groups and surveys. Regular reports will be issued to the Mayor and City Council on the task force's findings.
Senior Task Force News and Events

Free ID Theft and Fraud Prevention Program
Join State Senator Michael Connelly for a free ID theft and consumer fraud prevention program with information provided by AARP on Wednesday, January 24 from 10 to 11:30 a.m. in Council Chambers of the Naperville Municipal Center, 400 S. Eagle St. View the event flyer for full details.
Input Requested on Lifetime Home "Seal of Approval" Criteria
The Senior Task Force has created a "Seal of Approval" criteria list to discuss with builders who are constructing new residences. The goal is for these builders to consider seniors who may wish to age in place and design "lifetime homes" that meet the needs of individuals in all stages of life. This criteria checklist would be used in discussions between the Senior Task Force and builders, after which time it would signed by the Senior Task Force and turned into the City with the task force's remarks.
Please take a look at the draft criteria. If you have suggestions, please email seniortaskforce@naperville.il.us with your feedback. Thank you in advance for your time and input.