Senior Task Force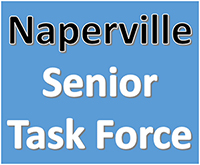 The Senior Task Force, which was established at the direction of the 2014 Naperville City Council, is helping address the unique needs of Naperville's growing senior population. As of the most recent census in 2010, more than 12,000 Naperville residents were over the age of 65, which accounts for almost 9 percent of the City's population.
This group promotes coordination among existing senior service providers in the Naperville area; improves awareness among seniors of available resources to assist them; and develops recommendations to address service gaps related to transportation challenges, housing concerns and healthcare resources.
To ensure seniors' needs are being met, the task force will also work with service providers to promote efficiencies and new partnerships that address local needs. The group will also proactively reach out to seniors for their thoughts and ideas via interviews, workshops, focus groups and surveys. Regular reports will be issued to the Mayor and City Council on the task force's findings.
Senior Task Force News and Events

2017 Healthy, Wealthy & Wise Senior Conference
The Naperville & Lisle Townships TRIAD, in partnership with the City of Naperville, is excited to present the 2017 Healthy, Wealthy & Wise senior conference on Friday, September 22, 2017 from 8:00 am to 12:00 pm at the Naperville Municipal Center, 400 S. Eagle St.
This year's engaging event designed for senior citizens features three informative speaker sessions. Julie Kenney from the United States Postal Inspection Services will start off the day presenting "Stop, Proceed with Caution," focusing on avoiding scams and offering insight into how the USPS conducts global investigations. Jenny Dawley, Director of Senior Services for Naperville Township will be addressing senior transportation options for residents during the "On the Go" presentation. The third and final presentation will allow attendees to explore new approaches as three experts in their respective fields present "Therapies of the 21st Century." In addition, attendees will have the opportunity to browse through community resource exhibits, and participate in raffles, refreshments and free blood pressure screenings.
A complementary lunch voucher will be given to registered participants who are in attendance for the entire event. Admission is free, but space is limited and advance registration is required. To register please call 630-969-0992 and reference Healthy, Wealthy & Wise. For more event information, visit www.naperville-lisle-triad.org.
Input Requested on Lifetime Home "Seal of Approval" Criteria
The Senior Task Force has created a "Seal of Approval" criteria list to discuss with builders who are constructing new residences. The goal is for these builders to consider seniors who may wish to age in place and design "lifetime homes" that meet the needs of individuals in all stages of life. This criteria checklist would be used in discussions between the Senior Task Force and builders, after which time it would signed by the Senior Task Force and turned into the City with the task force's remarks.
Please take a look at the draft criteria. If you have suggestions, please email seniortaskforce@naperville.il.us with your feedback. Thank you in advance for your time and input.