Senior Task Force
The Senior Task Force, which was established at the direction of the 2014 Naperville City Council, is helping address the unique needs of Naperville's growing senior population. As of the most recent census in 2010, more than 12,000 Naperville residents were over the age of 65, which accounts for almost 9 percent of the City's population.
This group promotes coordination among existing senior service providers in the Naperville area; improves awareness among seniors of available resources to assist them; and develops recommendations to address service gaps related to transportation challenges, housing concerns and healthcare resources.
To ensure seniors' needs are being met, the task force will also work with service providers to promote efficiencies and new partnerships that address local needs. The group will also proactively reach out to seniors for their thoughts and ideas via interviews, workshops, focus groups and surveys. Regular reports will be issued to the Mayor and City Council on the task force's findings.
2016 Senior Task Force Report to Council
In January, the Senior Task Force presented a report to Council outlining its work for the past year and recommendations for the coming year.
Read the Report
Senior Task Force News and Events
"Leaf" Your Raking to the Boy Scouts This Year
Seniors, "LEAF" your raking to the Boy Scouts this year! The Senior Task Force and the Naperville Park District have partnered with local Boy Scout troops to provide a free leaf raking service to seniors this fall. Limited openings are available; the Scouts can accommodate up to 30 homes in Naperville.

The work will be timed to coincide with the City's annual bulk curbside leaf collection dates in October and November. This service is geared towards those seniors who may have mobility issues or other impairments that keep them from accomplishing this type of yard work.

If interested, please contact the Senior Help Desk by calling (630) 848-3613. (This is the only way to schedule an appointment.) Calls will be answered by a Help Desk volunteer between the hours of 11 a.m. and 2 p.m.; if calling outside of those hours, please leave a message with your name, address and a phone number you can be reached at. A representative from the Boy Scouts will contact you to arrange a day and time for this service.
Ride Assist Naperville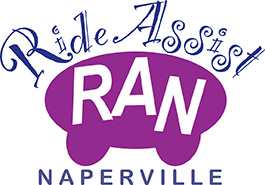 Looking to run into a new volunteer opportunity?

The new not-for-profit Ride Assist Naperville (RAN) is in the process of forming. This exciting initiative will pair seniors who need rides to and from their medical appointments with a volunteer driver to take them to the appointments, wait with them and then drive them back home.

In addition to board members and volunteer drivers/riders, several other talents are needed to get RAN off the ground and running! The board is currently seeking individuals in the following areas:


Grant Writing – Volunteers would conduct research on potential funding sources and help write grant proposals
Public Relations – Volunteers would use a variety of traditional and electronic communication methods to create materials that promote the program and visit senior communities and other community organizations to explain the program
Office Assistance – Volunteers would assist drivers and riders with completing applications and required supporting information as well as basic clerical duties
Training Assistance – Volunteers would develop and present a training program for RAN drivers
Financial Assistance – Volunteers would establish an accounting system and basic internal controls
If you are interested in helping create a new not-for-profit and making a difference from the ground level up, contact Senior Task Force co-chair and RAN board member Karen Courney at seniortaskforce@naperville.il.us.