Water and Wastewater Rates
2017 Water Rate Study
Planning for the Future
Naperville's Water Utility provides its customers with high-quality water and wastewater services that enhance our quality of life and make Naperville an attractive location for businesses. In fact, our 2016 recent Citizen Survey showed 95% of people are satisfied with the reliability of their water service.

Part of the utility's commitment to serving the community well includes careful planning for the future. To help meet the utility's needs through 2021, a rate study was conducted in 2016. Future considerations included:


Day-to-day operations – Rates today are not covering the utility's cost of providing service to customers.


Improvements – Critical water main infrastructure improvements under major roadways and railroad crossings are needed in the near future to ensure continued reliability, avoid disruptions and make sure customers are receiving an excellent value for what they pay.


Federal regulations – As part of the new permit to operate the Springbrook Water Reclamation Center, the City must remove more phosphorus than it currently does from the water it treats. (Phosphorus is a mineral that is found in the human body and excreted in liquid waste, hence its presence at the water treatment center.) This will have positive environmental impacts for local and national waterways, as excess phosphorus in water can cause "dead zones" where no aquatic life can survive. These phosphorus improvements must begin in 2025.
Proposed Rate Changes
After careful consideration, a decision was made on rates that accomplish several actions, including providing revenues to continue existing services, eliminating customer classes subsidizing each other's service, increasing capital funding to address upcoming projects and implementing a transparent, gradual surcharge on customers' bills to solely fund the needed phosphorus improvements. In addition to the surcharge, phosphorus improvements will also be funded by the Electric Utility repaying a loan made to it by the Water Utility in 2014 and debt service. The surcharge would expire once funds collected equal half of the improvement costs.
Below is a chart outlining the selected rate structure and its impacts on different customer classes. These figures reflect what an average water/wastewater use monthly bill for customers in these classes would look like following rate implementation.
| Year | Residential | Small Commercial | Large Commercial |
| --- | --- | --- | --- |
| 2016 | $65.07 | $415 | $2,499 |
| 2017 | $67.59 | $432 | $2,585 |
| 2018 | $70.18 | $452 | $2,681 |
| 2019 | $73.14 | $477 | $2,796 |
| 2020 | $75.36 | $503 | $2,928 |
| 2021 | $77.63 | $534 | $3,089 |
To accomplish these actions, and accounting for an additional pass-through rate increase from the DuPage Water Commission, the average residential water customer would see their bill increase by $2.65 beginning in May 2017.
Remaining Competitive
Naperville already enjoys some of the lowest rates among other communities that source water from Lake Michigan, as seen below in this 2016 residential comparisons chart.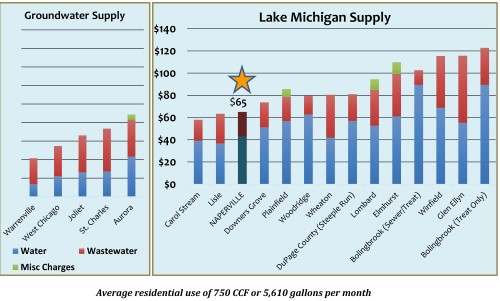 (Click here to see a larger version of the above residential comparisons chart)
Rates will remain competitive following the aforementioned rate changes. In addition, the utility will be poised for long-term financial stability and will continue to provide the reliable service that is a hallmark of Naperville.
Current Water Rate Data
The below rate data will be updated by May 1, 2017, to reflect charges going into effect based on decisions from the most recent rate study.
On May 1, 2015, Wholesale Water Rates decreased from $3.70 per 100 cubic feet (ccf) to $3.63. (1 ccf is equal to 748 gallons). The decrease in the Wholesale Water Rate is a direct pass-through of the water rate charged by the DuPage Water Commission, the City of Naperville's water supplier. Wholesale Water Rates are approximately 70% of customers' monthly water utility bills.
The Wholesale Water Rate component is determined by the DuPage Water Commission based on the City of Chicago's water rates. Accordingly, the wholesale water rate is automatically passed directly through to City of Naperville utility customers.
Please note that all unincorporated Naperville water customers pay a 10% surcharge on the water rates. These customers' bills will reflect volumetric (wholesale and retail) rates 10% higher than the rates published below, which apply to incorporated Naperville customers.
The wholesale rate is a pass through rate to the consumer. However, the wholesale rate does require City Council action to amend and/or adopt new rates as we receive information from the DuPage Water Commission.