What Can I Do?
Learn more about programs and actions you can take to reduce your energy bill and preserve our environment for the benefit of future generations.
Fall and Winter Energy Saving Tips
Caulk and weather strip doors and windows that leak air.
Use foam sealant on larger gaps around windows, baseboards and other places where there may be air leaks.
Replace door bottoms and thresholds with ones that have pliable sealing gaskets.
Keep the fireplace flue damper tightly closed when not in use.
Turn the thermostat down to 68 degrees or lower when away from home or sleeping.
Install a programmable thermostat that will automatically turn the heat down or up.
Change your furnace filter.
Open your curtains to naturally heat your home.
Set your ceiling fan to spin clockwise to blow hot air down.
Add insulation to your walls.
Setting your Thermostat Saves Energy
Naperville residents can save as much as 10 percent a year on heating and cooling by simply turning their thermostats back 7° to 10°F for eight hours a day from its normal setting. The percentage of savings from setback is greater for buildings in milder climates than for those in more severe climates.

You can easily save energy in the winter by setting the thermostat to 68°F while you're awake and setting it lower while you're asleep or away from home. In the summer, you can follow the same strategy with central air conditioning by keeping your house warmer than normal when you are away, and setting the thermostat to 78°F (26°C) only when you are at home and need cooling. Set your thermostat at as high a temperature as comfortably possible and ensure humidity control if needed. The smaller the difference between the indoor and outdoor temperatures, the lower your overall cooling bill will be.

Although thermostats can be adjusted manually, programmable thermostats will avoid any discomfort by returning temperatures to normal before you wake or return home.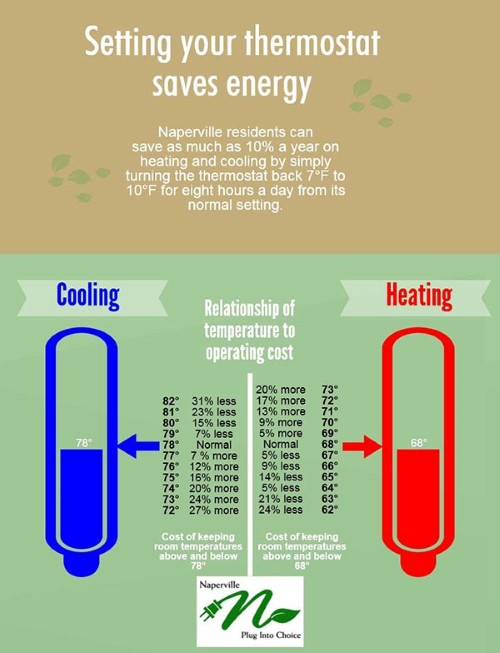 Get Rid of that Old Fridge and Get $50
Want to save help save some green AND obtain some green? Naperville residents can recycle their old secondary refrigerators or freezers free-of-charge through the Recycle My Fridge program offered by the Illinois Municipal Electric Agency (IMEA) and receive a $50 prepaid gift card per qualifying unit.
Since its inception in July 2011 through September 2016, the Recycle My Fridge program has retired close to 580 refrigerators and freezers for Naperville residents for an estimated cost savings of 522,000 kWh per year, which adds up to more than $56,370 in energy savings, Last year, 151 units were recycled, the highest number in the Naperville program's history.
To qualify, a refrigerator and/or freezer must be working and cooling; it must be a secondary unit; it must be 10 to 30 cubic feet; and residents must be served by an IMEA-member utility, which includes the City of Naperville. Two units are allowed per household. The appliances are recycled and properly disposed of, so they don't end up in a landfill. For more information, visit www.recyclemyfridge.org or call (877) 341-2313.