Parkway Trees - Removal and Replacement by the City
To ensure 508 compliance, a text-only version of this webpage is available.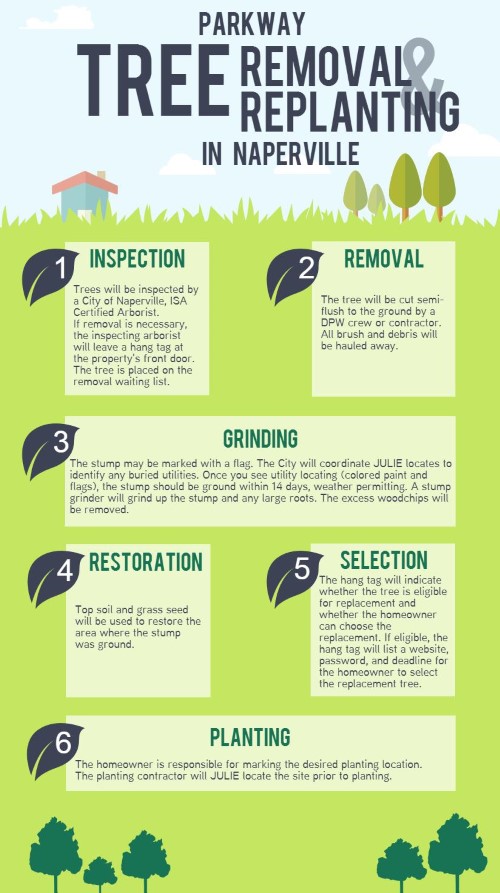 Tree Replacement Explained
What trees will be replaced?
If a tree is removed and there is sufficient growing space both below and above ground, then the tree will be replaced.

Naperville's planting standards require parkway trees to be:
30 to 40 feet from other parkway trees

10 feet from driveways, alleys, fire hydrants, or utility poles

5 feet from gas, water, electric, communication, and sewer lines

30 feet from corner property lines

Centered between curb and sidewalk
Who chooses the replacement tree?
Trees in front of single or multi-family homes can be chosen by the homeowner. Trees in front of apartments, businesses, along medians or behind properties are chosen by the Department of Public Works.
What species are available?
Species options are determined for each site from a number of factors:
Unique site requirements (e.g. overhead power lines)

Species diversity requirements

Planting season (some trees can only be planted in the spring)

Availability from the nursery
How do I choose my replacement tree?
Visit the City's Tree Selector App. (Coming Soon!)

Enter the password provided on the tree removal hang tag and then follow the prompts.
Choose a replacement tree online by the deadline on the hang tag. If no response is received online, a tree planting packet will be sent to the address to give the homeowner a final chance to select a replacement tree species.

Deadline for spring planting: February 1 of each year

Deadline for fall planting: July 1 of each year
When will my tree be planted?
Trees are planted twice a year, spring and fall. Your tree will be planted during the next available planting season.

The hang tag indicates a deadline by which you must choose a replacement tree. February deadlines are for the spring planting season (May-June). July deadlines are for the fall planting season (October-November).

The following trees are available only during spring:

Red Oak

White Oak

Bur Oak

Chinkapin Oak

Sawtooth Oak

English Oak

Ohio Buckeye

Bald Cypress

Tuliptree

London Planetree

Japanese Tree Lilac

Magnolia

Redbud

Serviceberry

Crabapple



Post-Planting Homeowner Responsibilities
As a homeowner, your responsibility to the tree does not end once it has been planted. Post-planting care is critical in the first 3 years after planting. Proper watering during the growing season, mulching and trunk protection are some of the key components of after-planting care. Please refer to the US Forest Service's Tree Owner's Manual for detailed information on post planting care.
I have sprinklers in the parkway, will this be a problem?
Sprinklers are technically not permitted to be placed in the parkway. The City and its contractors will make reasonable efforts to avoid damaging sprinkler systems that may be located in this area; however, the City and/or contractor will not be responsible if the sprinkler is damaged.
Who calls JULIE?
Under Illinois law, the person doing the digging is responsible for contacting JULIE for locates at least 48 hours prior to the start of work.
I just got my hang tag, when will everything happen?
See steps 1-5.
Should I stake my tree?
Staking is usually unnecessary. If your tree does start leaning from a storm or wind, the City will stake the tree. The resident should remove these in one year to avoid trunk girdling.
My brand new tree has already died, what now?
Please call the Department of Public Works at (630) 420-6095 to report this. The trees are under warranty from the nursery for a one year period. The City will have your tree replaced as soon as possible.