Townships
Townships are a unit of government that do not duplicate services provided by villages, cities, counties or the state. By law, Illinois townships are charged with three basic functions:
General assistance for the indigent;
The assessment of real property for the basis of local taxation;
Maintenance of all roads and bridges outside federal, state and other local jurisdictions.
There are six townships that cover portions of the City of Naperville. Below are descriptions of the boundaries of each township, along with a map depicting each township's boundaries.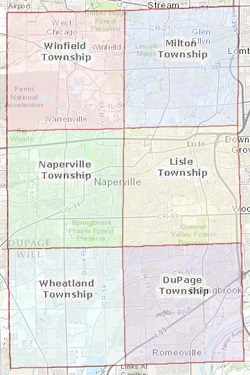 Naperville Township – residents of DuPage County that are north of 87th Street and west of Washington Street
Lisle Township – residents of DuPage County north of 87th Street and east of Washington Street
Wheatland Township – residents of Will County west of Washington Street
DuPage Township – residents of Will County east of Washington Street
Winfield Township – a small portion of far northwest Naperville
Milton Township – a small number of properties on the northeast side