Garbage and Recycling
New Residential Garbage and Recycling Contract Begins May 1
On May 1, 2019, Groot Industries will become the new garbage, recycling and yard waste hauler for the City of Naperville.
Under this new contract, residents will receive weekly garbage and recycling collection on their currently scheduled day with the use of their existing garbage and recycling carts.
Please refer to the Yard Waste Collection page for important dates and information about changes to yard waste stickers, turning in Waste Management yard waste/organics carts and signing up for Groot's yard waste/organics program.
The City of Naperville contracts with Waste Management for residential garbage collection and Groot Industries for curbside recycling services. The City offers the Naperville Environmental Collection Campus located at 156 Fort Hill Drive, which includes three different recycling options to provide additional sustainable disposal opportunities. The facilities include a Recycling Drop-Off Center, Household Hazardous Waste Facility and Electronics Recycling Facility. See the information below for additional information and for hours of operation.
Buy a Cart
Purchase a garbage or recycling cart online via PayPal.
When is my garbage and recycling collection day?
View Map
Buy a Cart by Mail
If you prefer, you can print out the attached form and mail it to the Department of Public Works along with your payment to receive a recycling or garbage cart.
Download Order Form
Got a question about your service?
Check out our most frequently asked questions about garbage and recycling service in Naperville.
View FAQs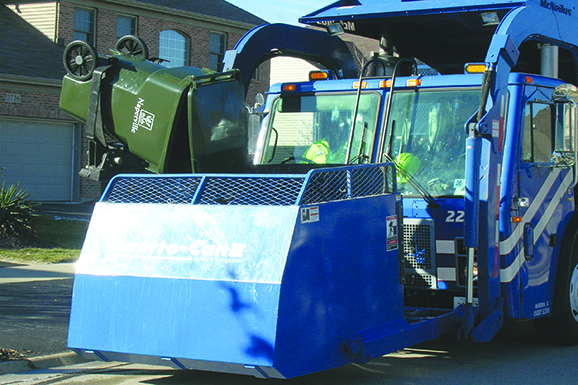 Did you know?
You "Can" Contribute to Curb Appeal