Meeting Room Reservations
The meeting rooms in the Naperville Municipal Center are designed primarily to meet the operational needs of the City of Naperville and provide accommodations for educational, informational, cultural and civic functions of the Naperville community.
Please contact us if you are in need of meeting room space for your school, club, civic organization or not-for-profit group at a nominal fee, and with plenty of free parking.
Forms
Priorities
In the event of a conflict, this list of priorities will prevail.
Naperville City Council and staff meetings.
City-initiated meetings including Planning and Zoning Commission, Transportation Advisory Board, Financial Advisory Board and all other advisory boards and commissions.
Other agencies of government.
Meetings of not-for-profit community groups and organizations whose aims are for educational, cultural or civic purposes. A copy of the Articles of Incorporation or Charter must be supplied every year.
No Endorsement
Use of the Meeting Rooms does not constitute city endorsement of viewpoints expressed by participants in programs. No advertisement or announcement implying such endorsement will be permitted.
Equal Opportunity
All activities taking place in the Meeting Rooms must be open to all citizens, regardless of age, sex, race, religion, national origin or physical handicaps. It is the responsibility of the group to provide any and all reasonable accommodations for persons with disabilities in accordance with the Americans with Disabilities Act.
Meeting Rooms
Below are the meeting rooms available for use by external groups. Please consider which room and layout you want, review the rules for room rental and complete an application form.
Council Chambers - First Floor
Capacity & Layout: 292 auditorium style, six handicapped, 11 at dais
Primary Uses:

City Council Meetings
Meetings conducted by other governmental agencies

Restrictions:

Available for other use upon approval of City management
No food or drinks allowed

Accommodations: Podium, public address system, audio record jack, cable and connector for your tape recorder, projection screen
Lower Level Meeting Rooms
Seating arrangements are limited to those depicted in the diagrams below: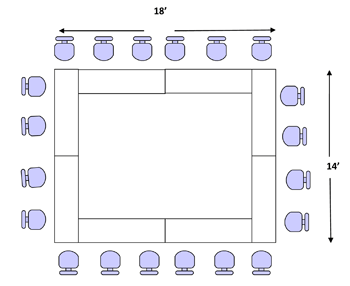 Large Conference Layout
Maximum - 40 in AB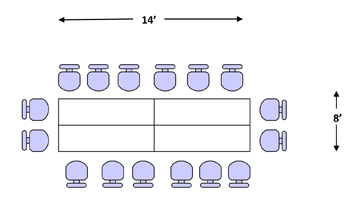 Conference Seating Layout
Maximum - 30 in A or B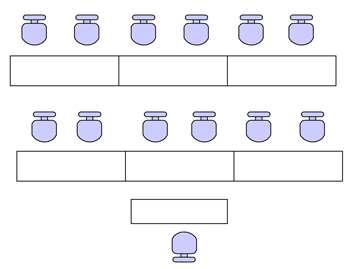 Classroom Seating Layout
Maximum - 30 in A or B | 60 in A&B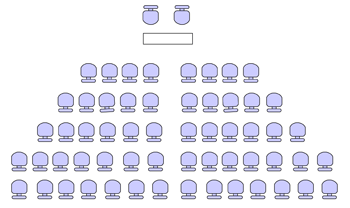 Audience/Auditorium Seating Layout
Maximum - 30 in A or 70 in B | 100 in A&B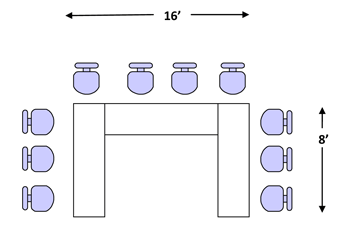 U-Shaped Layout
Maximum - 10 in A or B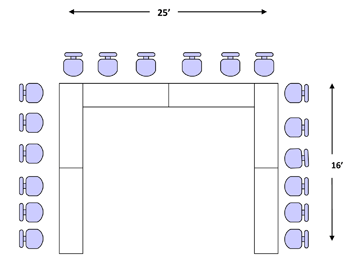 Large U-Shaped Layout
Maximum - 18 in A&B
Meeting Room A - Lower Level
Capacity & Layout: 30 seated at a conference table, 30 audience style
Accommodations:

Free Wi-Fi
Food is permitted
Podium

Standard Fee: $30
Meeting Room B - Lower Level
Capacity & Layout: 30 seated at a conference table, 70 audience style
Accommodations:

Free Wi-Fi
Food is permitted
Dry erase board, podium, and small projection screen
Coffee maker, refrigerator, microwave oven and sink available

Standard Fee: $30
Meeting Rooms A and B Combined
Rooms A and B can be combined. Reservations should be made at least 10 days in advance of the group event to ensure that the space is available.
Capacity & Layout: 100 persons - audience style with many conference table choices
Accommodations:

Free Wi-Fi
Food is permitted
Podium, two dry erase boards, two projection screens
Coffee maker, refrigerator, microwave oven and sink

Standard Fee: $60
NEU – Lower Level
Capacity & Layout: 20 seated at a conference table, 25 classroom
Accommodations:

Free Wi-Fi
Food is permitted
Dry erase board

Standard Fee: $30
Lunch Room - Lower Level
Capacity: 84 with tables and chairs not available for re-arrangement
Accommodations:

Free Wi-Fi
Food is permitted

Restrictions: Not available from 8 a.m. to 5 p.m., Monday - Friday
Standard Fee: $30
General Restrictions
The Municipal Center Meeting Rooms are not available for private parties, commercial purposes, rehearsals or fund-raising activities.
Organizations meeting in the Municipal Center Meeting Rooms shall not use the city for their mailing address or, even on a temporary basis, direct calls relating to their meetings to the city telephones.
All groups of persons under 18 years of age must be attended by adult chaperones who will assume responsibility for the group's activities.
Smoking is not allowed anywhere in the Municipal Center.
Alcoholic beverages are not allowed to be consumed anywhere on the premises.
All set up and take down must be done by the city's custodial staff.
Each not-for-profit organization will be limited to no more than two (2) meeting room uses per month.
Reservations and Scheduling
Reservations must be made by a person residing within the corporate limits of Naperville who is 18 years of age or older. The person making the application shall be the contact person and the only person authorized to make changes in the reservation.
Applications for use of the rooms must be made on the forms provided. A room reservation is temporary until the form has been approved by the City Council Office.
The city may preempt any meeting when necessary. If this happens, all reasonable efforts will be made to reschedule the reservation to another area in the Municipal Center.
The need to have maintenance personnel and a security guard available for meetings restrict meeting room use to the following hours:

8 a.m. - 10 p.m. Monday through Friday
7 a.m. - 3 p.m. Saturday
No meetings will be scheduled on Sunday or city-observed holidays

The using group must vacate the building by the time specified on their application.
In the event the applicant requires meeting times that differ from the above schedule, special arrangements are required. All special arrangements must be made seven (7) days prior to the meeting.
No group may assign its reservation to another group.
No Show Policy - Notice of cancellations must be made no less than 48 hours in advance of the meeting. Cancellations without notice will be considered No Shows and will be billed a $50 charge. No meetings can be held until this charge is paid.
Use and Care of Facilities
Attendance at meetings must be limited to the stated capacity of the rooms.
Nails, tacks, tape, etc., are not to be used on the walls or grease boards.
Meeting rooms must be left clean and in good condition. All papers, cups and other waste must be disposed of properly. Failure to leave the facility in proper order could result in denial of future requests to use the facilities. Each organization will reimburse the city for any and all property damage done or presumed to have been done to the city facilities used as a result of an approved request.
Parking
Parking is available on the upper parking deck, accessible from Webster Street and Eagle Street. For groups of 50 or more please park off site. No parking in the lower parking deck before 5 p.m., Monday through Friday.
Liability
The applicant agrees to indemnify, hold harmless and defend the City of Naperville from and against any and all personal injuries and/or loss of personal property sustained by applicant's attendees arising out of the facility use applied for under the Naperville Municipal Center Meeting Room Policy and Procedures.