Garbage Carts
Naperville residents within City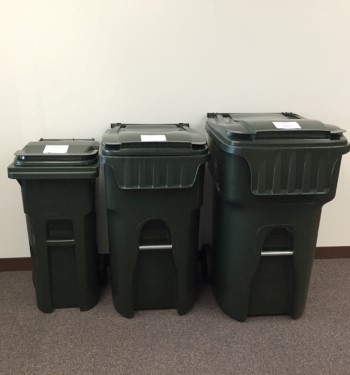 limits who receive curbside garbage collection from the City's contractor, Groot Industries, can purchase a wheeled residential garbage cart. The dark green carts are available in three sizes:
35-gallon (holds approximately 2 tall kitchen garbage bags)
68-gallon (holds approximately 4 bags)
95-gallon (holds approximately 6 bags)
These durable, plastic wheeled carts cannot be used for recycling or yard waste. The garbage carts are designed to be lifted mechanically by garbage trucks and feature a permanently attached lid, a handle that allows for easy maneuvering and a 10-year warranty against manufacturer's defects. They are convenient and easy to store and use.
Participation in the cart program is completely voluntary. These carts are being offered to Naperville residents because of their convenience and ease of use.
Purchase a Garbage Cart
Sizes for both garbage and recycling carts are listed in the form below.
To have your carts delivered to your home, please select "One-Time Delivery Charge." This charge will only be assessed once regardless of the number of carts you purchase.
If you don't choose the delivery option you can pick up your cart at the Public Works Service Center, 180 Fort Hill Dr. Monday-Friday 7-4.
To order more than one item, select your first item and click Add to Cart. Once on the Paypal Checkout page, click the Continue Shopping link near the top right of the page to return here and select more items.
If you discover you have the wrong size cart for your needs, please contact the Department of Public Works at (630) 420-6095 within 30 days of receiving your cart. A charge associated with cart exchanges may apply.
Please note that the form below can be used to order both garbage and recycling carts.
Verify your Shipping Address before completing your order.
Orders for pick-up must be picked up within 30 days. Orders not picked up within 30 days will be cancelled and refunded.
Frequently Asked Questions
Why can't I use a regular garbage can that's bigger than 35 gallons?
Containers larger than 35 gallons that are filled above the 60-pound limit have caused injuries to Groot Industries drivers. The City strongly encourages the use of the wheeled garbage carts for your safety as well as that of the refuse truck drivers. Carts make it easy to store and move larger quantities of refuse, and they protect the refuse from animals once it is at the curb.
Why can't I purchase a cart from a home improvement store?
The carts sold by home improvement and hardware stores may not be compatible with the lifting devices on the Groot Industries garbage trucks. That is why the City adopted an ordinance making the carts sold by the City the only ones that are allowed.
When will my garbage cart be delivered?
When the additional $10 delivery charge is paid with the order, every effort will be made to deliver each cart within 30 days, depending on Public Works' current workload. In most cases carts are delivered within 10 days of the order receipt.
Residents may prefer to pick up a new cart at the Public Works Service Center if they need it sooner.
Once you receive your cart, you can place your old, empty garbage cans at the curb on your regular garbage collection day with a note attached to the can stating it is garbage.
I live in unincorporated Naperville. Can I buy a cart?
No, these carts are only for Naperville residents serviced under the city's contract with Groot Industries.