Leaf Collection
Leaf Collection Options
The City offers two leaf collection options:
Free bagged (no sticker required) leaf collection program - allows residents to dispose of bagged leaves and yard waste weekly. The program runs from Nov. 7, 2022 to Dec. 16, 2022.
Bulk curbside collection - every neighborhood has three leaf disposal opportunities each autumn. Bulk curbside collection is scheduled to take place between Monday, Oct. 17, 2022 and Wednesday, Nov. 23, 2022.
The burning of leaves is not permitted within City limits, but residents can mulch and compost leaves, grass clips, etc.
Free Bagged Leaf and Yard Waste Collection Program

Between March 14, 2022 and the start of free bagged leaf and yard waste collection on Nov. 7, 2022, a yard waste sticker is required on each bag, bundle, can or cart placed out for collection. Stickers cost $2.50 and can be purchased at many Naperville stores or in the Finance Department at the Municipal Center. Paper yard waste bags are available at local grocery and hardware stores. The City does not provide leaf bags.
From Nov. 7, through Dec. 16, 2022, the City offers a free leaf and yard waste collection program. During this time, homeowners may dispose of yard waste and leaves in 32-gallon paper yard waste bags or clearly labeled cans or carts, free of charge. Branches and other yard waste that are tied into bundles require a sticker at all times.

To participate, fill 32-gallon paper yard waste bags, clearly labeled 32-gallon trash cans or clearly labeled two-wheeled carts with leaves and other yard waste and place the receptacle at the curb by 6 a.m. on your normal trash collection day. There is a 60-pound maximum per bag. (Don't forget that wet leaves add to the weight of the bag.)
All yard waste collection ends for the year on Dec. 16, 2022. This includes the City's yard waste/organics collection program that allows residents to bypass bagging and stickers by utilizing a provided cart to dispose of food waste/organics and yard waste for a seasonal fee fee paid to Groot Industries. Services will resume in spring 2023.
Bulk Curbside Leaf Collection Program
The City's curbside leaf collection schedule provides every neighborhood with three leaf collection opportunities, weather permitting, each year. To participate, residents rake leaves into the street next to the curb in front of their house, avoiding storm drains, at the beginning of each leaf collection cycle.
Collection cycles for 2021 are scheduled to take place between Monday, Oct. 17 and Wednesday, Nov. 23.
Please note:
Crews will collect leaves in front of each home once during each two-week collection cycle.
Snow, rain or freezing weather may significantly delay or permanently halt curbside leaf collection, as the same equipment that removes leaves is used to handle deicing and snowplowing. If snow falls or is forecast, remaining leaves should be disposed of through the City's weekly yard waste collection program.
Collection on a certain day can't be guaranteed.
Only place leaves in leaf piles. Items such as branches, twigs, lumber, rocks, Halloween decorations, etc., can cause the equipment to break down, which delays the collection process and increases costs.
Rake leaves away from storm drains in the street to prevent flooding.
Street sweeping will begin after curbside leaf collection ends, weather permitting. Residents may choose to sweep up leaf debris and include it in the weekly yard waste collection program.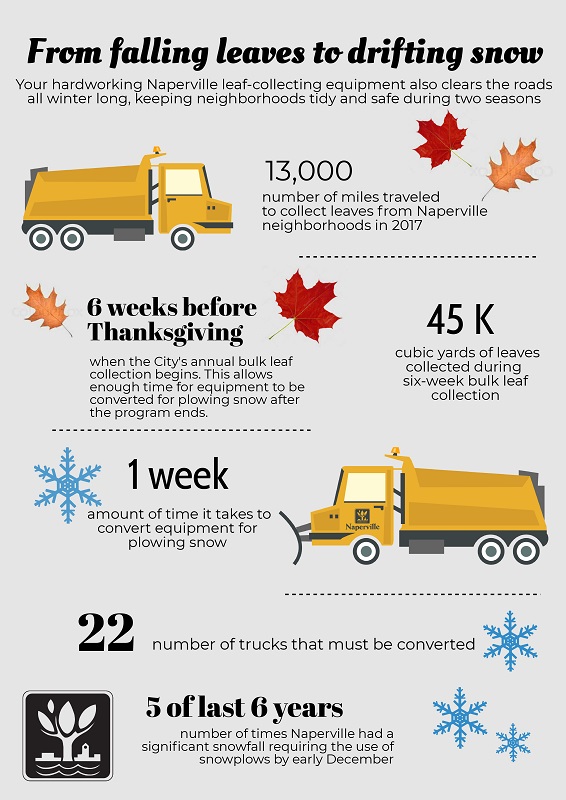 Leaf Collection Alternatives
Repurposing yard waste for landscaping is good for the environment, can provide a more natural appearance in your landscape and can save you time and money.
Here are some quick suggestions for repurposing yard waste from The Conservation Foundation:
Let fallen leaves (and fallen twigs) remain. Leaves are variable in texture and can be collected and shredded at home. Shredding speeds decomposition and reduces leaves from blowing away. Mix shredded leaves into the soil in the fall and allow to break down naturally during the winter for improved soil quality. Leaves also provide food, nesting material, and cover for several types of wildlife, including birds and butterflies.
Compost your leaves. Chop them up first to speed up decomposition. Leaf mold (composted leaves) makes wonderful mulch, vegetable garden amendment, and has several uses in organic lawn care.
When mowing the lawn, use the mulching feature rather than bagging the clippings. Returning grass clippings to the yard keeps your lawn healthy and saves space in the landfill.
Additional Resources