Firefighter/Paramedic Recruitment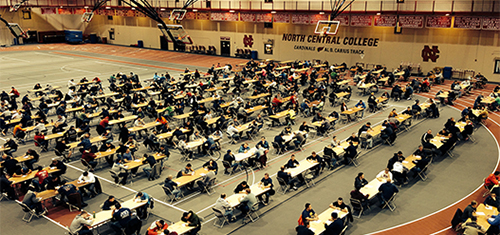 The City of Naperville, Illinois, is a dynamic community of approximately 150,000 residents, located 28 miles west of Chicago. Money Magazine named Naperville the second-best city in the United States in which to live. We have gained national recognition for our family-friendly environment, excellent schools and library system, low crime rate and vibrant downtown area. Our municipal government employs nearly 1,000 dedicated individuals in a wide range of job categories.
The Naperville Fire Department is responsible for protecting approximately 150,000 residents (daytime population of 200,000) living in a 50 square-mile area. A nationally accredited agency, the Naperville Fire Department's mission is to safeguard the lives and property of the citizens of Naperville. This is accomplished by providing professional, quality fire prevention and public education programs, as well as effective and efficient fire suppression, emergency medical, rescue and other emergency services.
During the past two decades, the Naperville Fire Department has experienced rapid growth. The department has ten fire stations in operation and employees more than 200 personnel. The department is staffed 24 hours a day and operates six front-line engines, two heavy-duty rescue squads, eight front-line paramedic ambulances, two front-line ladder trucks, and two Battalion Commander Vehicles.
Please note that the application period is now closed.
Citizenship and residency
Applicants must be citizens of the United States of America. Proof of citizenship will be required at time of application. Sworn personnel of the Naperville Fire Department shall not be required to be residents of the City of Naperville.
Age
Applicants must be at least nineteen (19) years of age and shall be under thirty-five (35) years of age.
However, the age-35 limitation shall not apply in cases where the applicant was previously employed as a full-time firefighter in a regularly constituted fire department of (i) any municipality or fire protection district located in Illinois, (ii) any fire protection district whose obligations were assumed by a municipality under Section 21 of the Fire Protection District Act (70 ILCS 705/21); or (iii) a municipality whose obligations were taken over by a fire protection district. To qualify for these exceptions to the age limitations, the applicant shall have been actively working as a firefighter within two (2) years of the date of his or her application to this City. To qualify as "employment status" for purposes of this section, the applicant must have received or should receive a W-2 from a municipality under federal law or regulations.
Furthermore, the age-35 limitation shall not apply to any applicant who turned 35 while serving as a member of the active or reserve components of any of the branches of the Armed Forces of the United States or the National Guard of any state, whose service was characterized as honorable or under honorable, if separated from the military, and is currently under the age of 40.
Age for application will be calculated as of the date of scheduled orientation. Proof of birth date will be required at time of application. Note that the minimum age for appointment to the position of firefighter/paramedic with the City of Naperville shall be twenty-one (21), calculated as of the date of a conditional offer of hire.
Education
Applicants must be a high school graduate or equivalent at the time of application.
Application
Applicants Shall Furnish with Their Applications:
A copy of their "birth record" as proof of citizenship and age. Applicants may submit copies of a U.S. county- or state-issued birth record, valid U.S. passport, or naturalization papers as their birth record. Hospital-issued birth certificates will not be accepted.
A copy of their high school diploma. The Board will also accept a copy of the applicants' high school transcript (showing graduation date) or evidence of a G.E.D. equivalence diploma. In cases of applicants who were educated outside the United States, appropriate documentation of a high school-level diploma shall be determined on a case-by-case basis.
A copy of their valid driver's license, including the back side if license bears renewal sticker.
A copy of their valid Candidate Physical Ability Test (CPAT) card with ladder certification issued within twelve months immediately preceding the date of application.
A copy of their valid Paramedic License (EMT-P); must be licensed as an Illinois EMT-Paramedic at time of hire
Reference Letters - Applicants are required to provide three original reference letters. The signed letters of character/reference may be written by anyone (except relatives or current employers) who has known you for more than three years and who can vouch for your personal or professional character. Each letter should contain the following:

Addressed to the City of Naperville's Board of Fire and Police Commissioners
Author's name, address, phone number and signature
Letter should state the number of years the author has known you (minimum three years).
Display the date when the letter was written
Be an original document (no copies or faxes)
Candidate Physical Ability Testing (CPAT) Card May Be Obtained at
Scope of the Testing Process
Written Test with Situational Judgment Test
Preference Points
A. Veteran's Preference Points
Applicants who served in the United States military actively for at least one (1) year and who were honorably discharged or are now on inactive or reserve duty shall be preferred for employment and shall receive not less than five (5) preference points. Proof of such service must include a copy of his or her most current Military Form DD-214 (long form) as proof of active service, evidence of the honorable discharge and a sworn affidavit by the candidate.
B. Cadet Preference Points
Candidates who have successfully completed at least two (2) years of study with the City of Naperville's Fire Department's Cadet program may receive from zero (0) to five (5) preference points. The amount of points to be awarded shall be announced at the time of the notice of the examination process. For the 2022 testing, there will be two (2) points awarded for completing two (2) years with the Cadet program; three (3) points for completing three (3) years; and four (4) points for completing four (4) years.
C. Educational Preference Points
Any candidate who has successfully obtained an associate's degree in the field of fire service or emergency medical services, or a bachelor's degree from an accredited college or university may receive from zero (0) to five (5) preference points. The Board reserves the right to award a greater number of preference points for job-related degrees than for non-job-related degrees. For the year 2022 the number of points that shall be awarded to applicants who have successfully obtained an associate's degree in the field of fire service or emergency medical services, or a bachelor's degree from an accredited college or university are five (5). Preference points awarded under this sub-section shall not be cumulative.
Weight of Components

Testing Component

Minimum Passing Score

Weighting of Components

Written Test

70%

60%

Situational Judgment Test

N/A

40%
Wages and Benefits
The Fire Department expects to hire 15 to 20 personnel over the next two years. Pay rate for the position of Firefighter/Paramedic is negotiated between the City of Naperville and the International Association of Firefighters Local 4302. The starting pay for a Firefighter/Paramedic will be $71,751.59 as of Jan. 1, 2022. An excellent benefits package is provided.
The City of Naperville is an equal opportunity employer; women and
minority candidates are encouraged to apply.
Please note that the application period is now closed.