Public Transportation
There are many public transportation options available to assist people in getting around our City. Additionally, options are available to commute between Naperville and Chicago as well as other suburbs.
Metra
Metra provides commuter rail service to Naperville via the Burlington Northern Santa Fe (BNSF) rail line. Service from Naperville runs east to Chicago and west to Aurora. Regular service is provided throughout the day and express service is available during the morning and evening commutes.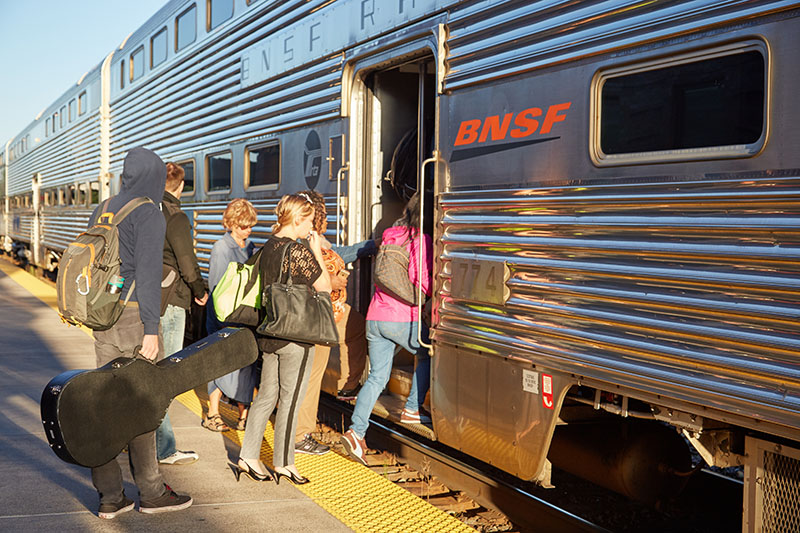 The City of Naperville is served by two Metra stations:
Naperville Metra Station - 105 E. 4th Ave.
Route 59 Metra Station - North Parking Lot, 475 Fairway Drive
Please note that the South Parking Lot of the Route 59 Metra Station is operated by the City of Aurora.
Learn more about parking at our two Metra Stations.
More information about Metra, as well as schedules and fare options, is available at www.metrarail.com.
Pace Bus
Pace is the premier suburban transit provider, quickly moving people to work and school safely and efficiently. Pace provides rush hour service to and from both train stations and other areas of the City.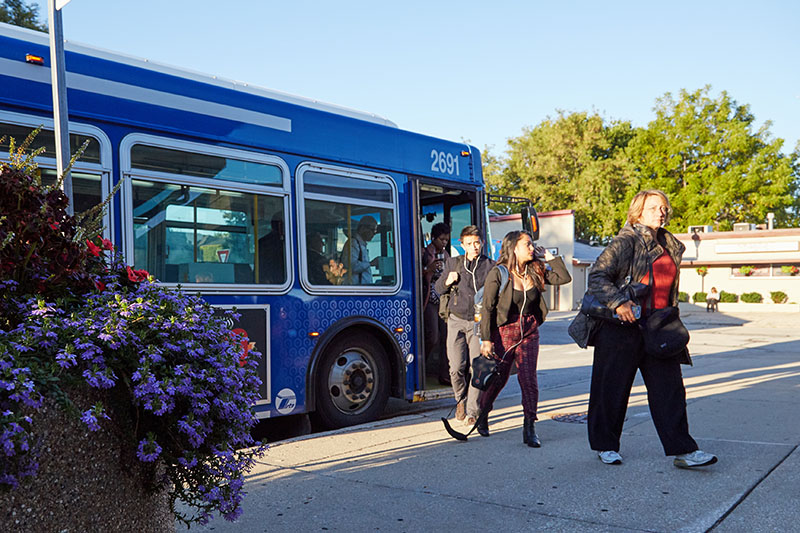 All Pace buses are accessible and provide bicycle racks on the front of the bus.
Route Maps
A comprehensive route map is available in PDF format.
The following routes serve the Naperville area:
All-Day Service
For more information about Pace, including route maps, schedules and fare options, visit www.pacebus.com.
Ridership
Metra and Pace closely monitor passenger ridership on their trains and buses. Current ridership data can be found through these links:
Guaranteed Ride Home Program
Due to the service cuts implemented by Pace, the City of Naperville has suspended the Guaranteed Ride Home Program.
Amtrak
Amtrak has a pickup/drop-off at the Naperville Train Station, 105 E. 4th Ave. The Amtrak ticket office is open daily from 11:30 a.m. to 7 p.m. (hours subject to change).
Amtrak Parking
Amtrak passengers are required to obtain an Amtrak parking permit to park a vehicle at the Naperville Station. When purchasing an Amtrak ticket, please make arrangements to obtain a free parking permit through the Amtrak ticket office located in the Naperville Station. The permit is valid for the duration of the trip.
Passengers are responsible for making necessary arrangements to obtain an Amtrak parking permit if travelling at a time when the Amtrak ticket office is closed.
Amtrak visitors with an Amtrak parking permit displayed in the vehicle may park in any of the available spaces located in the Burlington Lot on the north side of the train tracks.
For additional information on obtaining an Amtrak parking permit, contact the Amtrak ticket window at the Naperville Metra Station at (630) 357-9114.
Share the Ride
If you'd like to reduce your commuting costs and public transportation isn't a viable option for you, consider sharing the drive and commuting costs with someone else.
Carpooling
Pace Suburban Bus operates a free Rideshare Service that helps match carpooling participants. Pace RideShare is a free, easy and convenient service that connects commuters throughout the Chicagoland area who are interested in sharing their drive to work. The program gives residents and employees in Northeastern Illinois the ability to identify potential carpool partners quickly and securely.
For more information or to sign up, visit www.pacerideshare.com.
Pace Vanpool
Pace offers several vanpool programs that may fit your commuting needs. Employees that live and work near one another and share similar schedules can form a group. Each rider pays a monthly fare based on distance and the number of participants within the group. This covers all costs of the vanpool including fuel, maintenance, insurance, tolls, cell phone, roadside assistance and van washes. Pace also offers other vanpool programs for employers and persons with disabilities.
For more information, visit www.pacebus.com.
Ride DuPage
In an effort to improve transportation services for senior and persons with disabilities, the Naperville/Lisle Area Transportation Partners and Pace implemented Ride DuPage, a transportation program for seniors and persons with disabilities.
The Ride DuPage fare is a $2 flag pull fee and $1 per mile. Registration information is provided below.
Using Ride DuPage
To use the Ride DuPage service, customers must meet the following service guidelines:
Service is available to seniors and persons with disabilities who reside in Naperville, Lisle or Wheatland Townships or the City of Naperville. Seniors include all residents age 65 years and older. Persons with disabilities must be at least 16 years old and obtain an RTA Reduced Fare Card to use the service.
All persons eligible for the Ride DuPage program must be registered.
Service is available 24 hours a day, 7 days a week.
Trip requests will be accepted up to 7 days in advance with a minimum of 1 day advance notice.
Subscription trips will be allowed upon approval from Pace.
Cancellations must be made a minimum of 2 hours prior to the originally scheduled trip. No shows will be billed a $10 fee and repeat offenders may be dropped from the program.
Fares must be paid in cash.
Fares are a $2 flag pull and $1 per mile. For example: a four-mile trip would cost the $2 flag pull plus $1 x 4 miles ($4) for a total trip cost of $6.
Companion Fees:

The first companion will ride for free.
Each additional rider pays $1.50 with no additional mileage charge.
Registration
All persons eligible for the Ride DuPage program must be registered. City of Naperville residents living in DuPage County must register in their respective Township.
Naperville Township - (630) 355-2786, ext. 4403
Lisle Township - (630) 968-2087
Wheatland Township - (630) 851-3952
After completing the registration process, please call (800) 713-7445 to schedule a ride.
Ride DuPage to Work
Ride DuPage provides registered users reduced fares when using the service to travel to and from work through the Ride DuPage to Work program.
The Ride DuPage to Work fare is $3 for the first six miles and then $1 per mile.
Title VI Program Notice
"No person in the United States shall on the ground of race, color, or national origin be excluded from participation in, denied the benefits of, or subjected to discrimination under any program or activity receiving Federal Financial Assistance." (42 USC 2000d)
To file a Title VI complaint on the grounds of race, color, or national origin please complete the Title VI complaint form (PDF) and provide to the City of Naperville.
To learn more about all Ride DuPage services offered in DuPage County visit www.ridedupage.org.