Fair Housing and Discrimination
What is the Fair Housing Act?
It is the policy of the City that all individuals shall have an equal opportunity to purchase, own, lease, and occupy housing within the City without being discriminated against based on race, color, religion, sex, national origin, ancestry, age, marital status, familial status, physical or mental handicap or disability, military status, sexual orientation, or legal source of income. It is also the policy of the City that members of those protected classes shall have the right to be free from discriminatory practices when engaging in real estate transactions and seeking access to financial credit for real estate transactions.
The City's Fair Housing regulations are located in Municipal Code Section 10-5. In the fall of 2016 the City Council approved a text amendment to Section 10-5-2 (Definitions) defining Legal Source of Income. Additional information about Legal Source of Income and Housing Choice Vouchers is available here.
How to File a Fair Housing Complaint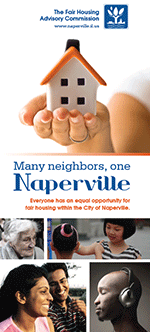 If you feel you have been discriminated against by a landlord, property manager, real estate agent, home loan officer, housing developer, or insurance agent regarding a housing related transaction you may file a complaint with the Housing Advisory Commission (HAC). The complaint must be filed within 90 days of the alleged unlawful act that forms the basis of the complaint. Each complaint is reviewed by the HAC to determine if a violation of the City's Fair Housing Ordinance occurred. The complete procedure for processing complaints with the HAC can be reviewed online.
To file a complaint or contact the Housing Advisory Commission:
City of Naperville
Attn: Housing Advisory Commission
400 S Eagle Street
Naperville, IL 60540
Contact the HAC staff liaison at fairhousing@naperville.il.us or (630) 305-5315.
Attend an HAC meeting usually held on the first Monday of every other month at 6:30 p.m. at the Naperville Municipal Center. Please check the HAC meeting information or contact the HAC Staff Liaison to confirm the meeting time and date.
Examples of Housing Discrimination
Acts that violate the fair housing law when based on a person's affected class include, but are not limited to:
Refusing to negotiate for the sale or rental of a dwelling.
Making different terms and conditions for buying or renting a house or apartment.
Advertising to suggest that housing is only available to certain groups: "This particular building is for adults only" … but you have a family and children.
Denying that housing is available when it is available: "I rented the apartment right after you called" … but you know a vacancy exists.
Discriminating in real estate-related transactions.
Threatening, coercing, intimidating or interfering with anyone exercising a fair housing right or assisting another person exercising that right.
"You can't put a ramp here" … but you need alternative accessibility.
"I can approve this loan, depending on what you can do for me, honey…" this is an example of sexual discrimination.
"This neighborhood is really only for families and children" … this is discrimination against age and marital status.
"I can't rent to you until I see your Green Card" … discrimination against national origin is illegal.
When searching for a place to live, write down:
Name of manager/agent
Address of the building
Apartment number, if applicable
Number of bedrooms
Personal information requested of you
When the unit will be available
Do:
Ask the amount of rent and deposit
Ask the date the unit is available
Don't:
Take a simple "no."
Act angry or threaten to sue
Additional Fair Housing Resources