NaperSAFE
When seconds count, information matters.
The City of Naperville has four free systems in place to enhance communications to and from residents. More than one may be right for you!
---
Smart911

Register yourself and your entire family for this free service that creates a profile accessible by 9-1-1 call takers nationwide. Anytime you call 9-1-1 from a registered phone number, your profile will display on the call taker's screen so they have vital information, as well as additional data about your home, family members and pets, immediately available. If you are panicked or otherwise unable to communicate, Smart911 ensures that call takers have the information they need. Before an emergency hits, be prepared and create a Smart911 profile.
---
Naper Notify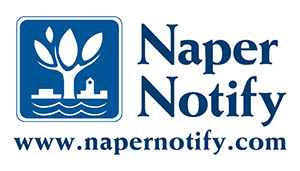 Naper Notify is a free notification system that provides emergency information directly to you from the City of Naperville through a phone call, text message, email or smart phone app. When emergencies arise, you'll be "in the know" with critical life safety information delivered in a way that is convenient for you. The system allows you to set up a personalized profile where you can choose one or more contact methods. Optional notifications about topics like brush and leaf collection, traffic alerts, road and utility work and snow removal updates are available. Your profile can be edited at any time to remove contact methods and add or delete optional notification categories.
---
MEDIC
MEDIC is a free service that may benefit your family if you or someone in your home has special needs stemming from a life-threatening medical condition, significant physical or cognitive impairments that may impair communication or mobility, or a medical need for uninterrupted power in the home. Registering your address with MEDIC allows 9-1-1 operators to relay potentially life-saving data to appropriate first responders and even notifies the City's Electric Department automatically if the power goes out at your home. Participants in the MEDIC program are contacted annually to validate and update their information.
Want to see if you qualify?
Call (630) 305-5900
---
PulsePoint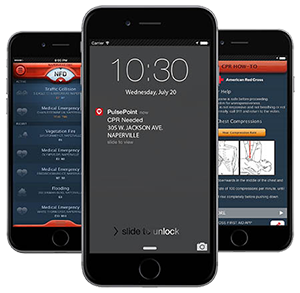 Available for both iOS and Android devices, the PulsePoint Respond smartphone app reports cardiac emergencies to registered users at the same time as the City's Dispatch system sends out an Emergency Medical Service (EMS) team. The purpose is to allow cardiopulmonary resuscitation (CPR) or automated external defibrillation (AED) to be administered more rapidly by nearby citizens and, thus, increase the chances of patient survival.
---