Cold Weather Resources
During periods of extremely cold weather, it is important for residents to take steps to protect themselves, their loved ones, and their property. Below are ways to prepare yourself and your homes during extreme cold.
Warming Centers
Both DuPage and Will counties maintain lists of facilities that act as warming centers during periods of extreme cold. Please contact the facilities listed below before you utilize them to ensure they are open.
Preparing Yourself and Loved Ones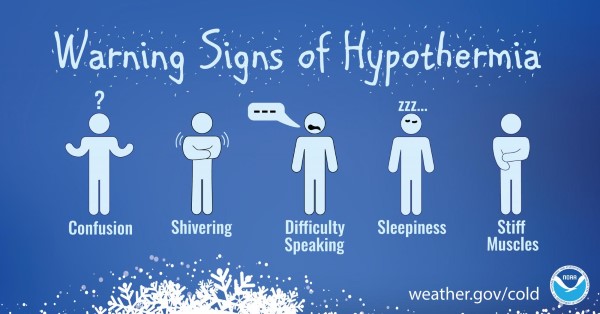 If you must go outside, dress in layers.
Make sure body parts most often affected by frostbite are covered in warm, dry clothing. These include your nose, ears, toes, cheeks, chin, and fingers.
Wear hats, scarves, and mittens or gloves.
If you are concerned about a loved one's well being during a period of dangerous cold, contact the Naperville Police Department at (630) 420-6666 to arrange for a non-emergency wellness check.
For more information, the Centers for Disease Control have put together an Extreme Cold Guide to promote personal health and safety during significant winter weather events.
Preparing Your Pets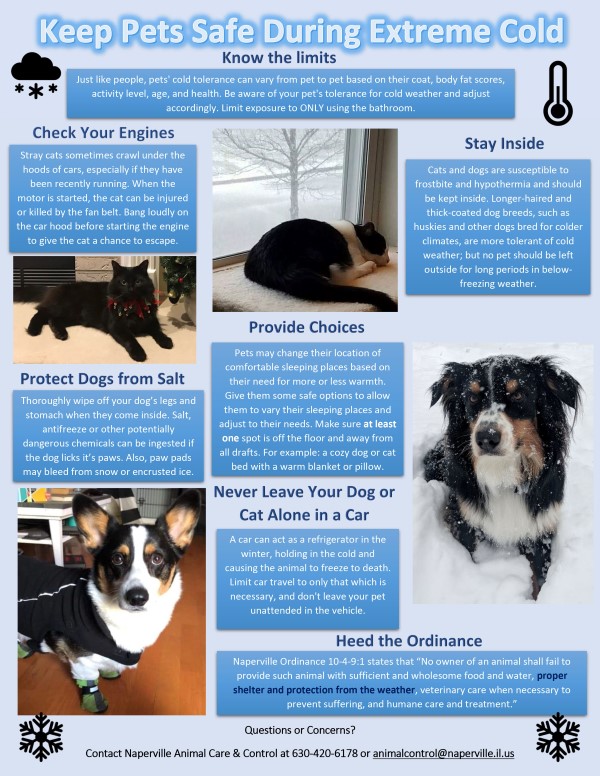 Dangerously cold weather is deadly to animals if left outdoors. Bring your pets indoors.
Do not leave your pets alone in a vehicle.
Make sure your pet has a warm, dry place with plenty of food and water.
Keep salt away from pets' paws.
If you see an animal outdoors and in need, become their advocate. Contact Naperville Animal Control at (630) 420-6178 to report an animal in distress.
Preparing Your Home
Other Home Heating Tips
Be extremely cautious when using space heaters. Inspect heaters for cracked or broken plugs or loose connections before each use. Keep space heaters at least three feet away from anything that can burn, including paper, clothing, or rugs. Place space heaters on level, flat surfaces and plug them directly into a wall outlet.
Check your chimneys and carbon monoxide detectors to ensure they are in working order.
Do not use ovens or any other gas-powered appliance to help heat your home.
Make sure furnace vents are clear of snow and ice. High-efficiency furnaces have exhaust vents closer to the first floor level of homes and must be kept clear.
Make sure your gas meter is clear of snow and ice to keep it in working order.
Preventing and Thawing Frozen Pipes
Frozen pipes can burst and be a serious inconvenience to residents. One of the best ways to prevent this is to allow water to drip from a faucet served by exposed pipes, which are those in unheated interior areas (basements, garages) or those that run against exterior walls. Even a little water running through the pipe can prevent them from freezing.
Other tips from the American Red Cross include:
Open kitchen and bathroom cabinet doors to allow warmer air to circulate around the plumbing.
Keep your thermostat at the same temperature, day and night.
If you will be away from your home during cold weather, leave the heat on in your home, set to a temperature no lower than 55F.
If your pipes freeze, do not use a blowtorch, kerosene or propane heater, or other open flame device to heat them. Use an electric hair dryer or wrap towels soaked in hot water around the frozen area. If you cannot thaw the pipe, call a licensed plumber. If your pipes burst, make sure you shut off your water service at the main shut-off valve at your home.
Residents who notice weaker than normal water pressure with no signs of frozen pipes or have no water should contact Naperville's Customer Care Center at (630) 420-6187.
Preparing Your Vehicles
Ensure you have a full tank of gas in your vehicle. Keep at least a half a tank of gas in your car to prevent fuel lines from freezing.
Do not warm your vehicle up in an enclosed area, such as your garage, to avoid carbon monoxide poisoning.
Check your battery, coolant, and tires.
Have jumper cables ready.
Pack a blanket if you must travel during extremely cold weather.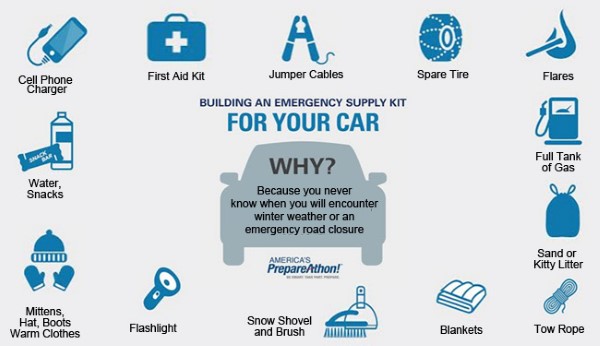 Once the Thaw Arrives
Here are a few tips you can take around your home to prevent water-related issues when the spring thaw arrives:
Remove snow in the attic that may have gotten sucked into roof vents or attic fans. If you can do so safely, remove the snow or call a professional roofing company to do the work.
Make sure your sump pump is working properly. Have a backup sump pump quickly available in case your main pump fails.
Check that your sump pump discharge pipe outside your home is not frozen or clogged and make sure it does not drain onto the sidewalk.
Move snow on the ground away from your home.
Check to make sure your gutters are free of snow and any other objects.
If you have downspout extension pipes, make sure they face away from your home.
Make sure exterior street drains are clear of snow, ice and debris. Because heavy rain is not expected this weekend, flooding concerns are minimal, but residents are advised to be mindful of drains in their neighborhoods. Interested in becoming a Naperville Drain Defender? Visit www.naperville.il.us/adoptadrain to learn more about the City's new Adopt A Drain program.