Senior Task Force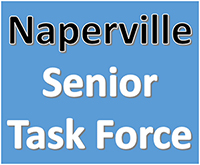 The Senior Task Force, which was established at the direction of the 2014 Naperville City Council, is helping address the unique needs of Naperville's growing senior population. As of the most recent census in 2010, more than 12,000 Naperville residents were over the age of 65, which accounts for almost 9 percent of the City's population.
This group promotes coordination among existing senior service providers in the Naperville area; improves awareness among seniors of available resources to assist them; and develops recommendations to address service gaps related to transportation challenges, housing concerns and healthcare resources.
To ensure seniors' needs are being met, the task force will also work with service providers to promote efficiencies and new partnerships that address local needs. The group will also proactively reach out to seniors for their thoughts and ideas via interviews, workshops, focus groups and surveys. Regular reports will be issued to the Mayor and City Council on the task force's findings.
Senior Task Force News and Events
Task Force Seeks New Members
The City of Naperville's Senior Task Force (STF) is now accepting applications for up to four positions on the task force's steering committee as well as volunteers to assist on an as-needed basis.

With a mission to improve the quality of life for Naperville's senior population, their families and caregivers, the STF has identified many unmet needs and diligently pursued solutions since its creation in 2014. At this time, STF's leadership is looking for individuals dedicated to addressing the ongoing needs of Naperville's growing senior population.

Projects in the works include:
Partnering with local nonprofits to present educational sessions for seniors covering a variety of important topics such as healthcare, financial planning, home security, identify theft, and home safety; and
Partnering with local building contractors to provide reasonably priced home repair services to seniors.
The STF is looking for individuals with grant-writing experience, a writing and communications background, health-care or education experience, and a transportation or construction background; however, all interested individuals are encouraged to apply. Applicants for the STF steering committee must be a Naperville resident and willing to commit to a two-year term on the STF, which would be renewable for an additional two-year term. To avoid the appearance of a conflict of interest and provide an independent perspective, applicants may not be currently employed by or otherwise directly affiliated with a for-profit or nonprofit entity that provides services to seniors.

In addition to steering committee members, volunteers are sought for as-needed roles, such as assisting at community events, research or helping with the STF's newsletter. There is no required time commitment for these roles.

If you have questions or need more information, contact STF Co-Chair Karen Courney at (630) 306-4613 or seniortaskforce@naperville.il.us.