Senior Task Force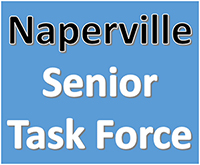 The Senior Task Force, which was established at the direction of the 2014 Naperville City Council, is helping address the unique needs of Naperville's growing senior population. As of the most recent census in 2010, more than 12,000 Naperville residents were over the age of 65, which accounts for almost 9 percent of the City's population.
This group promotes coordination among existing senior service providers in the Naperville area; improves awareness among seniors of available resources to assist them; and develops recommendations to address service gaps related to transportation challenges, housing concerns and healthcare resources.
To ensure seniors' needs are being met, the task force will also work with service providers to promote efficiencies and new partnerships that address local needs. The group will also proactively reach out to seniors for their thoughts and ideas via interviews, workshops, focus groups and surveys. Regular reports will be issued to the Mayor and City Council on the task force's findings.
Senior Task Force News and Events
Nominations Being Accepted for 2019 Senior of the Year
Know an "unsung hero" senior citizen who gives back to Naperville? This is your chance to help the Senior Task Force honor a special senior for all he/she does for the community! The Senior Task Force is now accepting nominations for the 2019 Senior of the Year.
Nominees should have a history of community service, give back selflessly, be 65 or older and a Naperville resident. Nominations are due by July 1, 2019, by emailing the form and accompanying information to:
or, by mailing the form and accompanying information to:
The winner will be announced on July 31, 2019, and honored with an award presented at the August 20 Naperville City Council meeting. National Senior Citizen's day, which takes places on April 21, 2019 was proclaimed by President Ronald Reagan in 1988 as a day for the country to demonstrate its gratitude and esteem for its older citizens.
Nominate a Senior
The City of Naperville's Senior Task Force is seeking nominations for this year's Senior of the Year award, which will honor the community service of a Naperville senior.
Nomination Form