Senior Task Force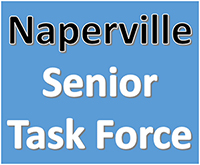 The Senior Task Force, which was established at the direction of the 2014 Naperville City Council, is helping address the unique needs of Naperville's growing senior population. As of the most recent census figures in 2018, more than 17,000 Naperville residents were over the age of 65, which accounts for almost 12 percent of the City's population.
This group promotes coordination among existing senior service providers in the Naperville area; improves awareness among seniors of available resources to assist them; and develops recommendations to address service gaps related to transportation challenges, housing concerns and healthcare resources.
To ensure seniors' needs are being met, the task force will also work with service providers to promote efficiencies and new partnerships that address local needs. The group will also proactively reach out to seniors for their thoughts and ideas via interviews, workshops, focus groups and surveys. Regular reports will be issued to the Mayor and City Council on the task force's findings.
Meeting Information
The Senior Task Force meets at 8 a.m. on the second Tuesday of each month in the Naperville Employee University (NEU) room on the lower level of the Naperville Municipal Center, 400 S. Eagle St.
Senior Task Force News and Events
Free Tax Help for Seniors
It's tax time once again, and seniors can get a free helping hand with their filing thanks to the Naperville Park District. Volunteers trained through the AARP Tax-Aide program will be available at the Alfred Rubin Riverwalk Community Center from 9 a.m. to 1:45 p.m. Mondays and Wednesdays for 45-minute appointments through April 8. Call the Naperville Park District at 630-848-5000 for an appointment.
In the News: Dementia-Friendly Naperville
Learn more about the efforts of the Dementia-Friendly Naperville Action Group, which was started by members of the Senior Task Force, in this NCTV17 news story.
Did You Know? Caring Hands Program
The new City of Naperville Caring Hands Program allows residents to voluntarily provide Naperville's first responders with critical information about themselves or loved ones with developmental, cognitive, mental, medical and/or physical disabilities who may require special assistance during an emergency or non-emergency situation.
2019 Senior of the Year Award
The 2019 Senior of the Year award was presented to two very deserving individuals - Anne Henriksen and Jim Kauffmann - at the August 20, 2019 City Council meeting.
Anne Henriksen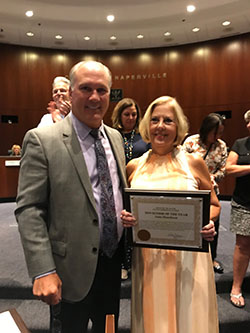 Anne Henriksen works with the Naperville Newcomers and Neighbors Club and is active in her church, Bridge Communities, and Families Helping Families. Anne has been very active with kids and homeless youth and is known as an individual who is "always there to help."
Jim Kauffmann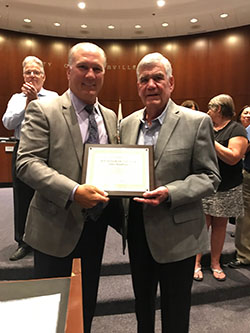 Jim Kauffmann's passion has always been to help others, both personally and professionally. He is known as a friend and a listener and has been the go-to person in his condominium community, overseeing landscaping projects, helping neighbors with maintenance work, and working tirelessly to make it a better place to live. If there is a problem, Jim is there to fix it. He has also been very active in his church.
The Senior Task Force is very proud of 2019's two seniors of the year. They truly help to make Naperville a wonderful city in which to live.