Senior Task Force
Helpful COVID-19 Related Information for Seniors
Grocery and Medication Delivery Service
Free home delivery of food and medicine for senior citizens in Naperville and surrounding areas who are unable to or avoidant of outdoor interactions due to COVID-19 is being provided by Islamic Center of Naperville (ICN) Youth Helpers. Call or text (773) 234-6627.
Social Security Administration Suspension of In-Person Service
Due to the COVID-19 pandemic, on Tuesday, March 17, the Social Security Administration suspended face-to-face service to the public in field offices and hearings offices nationwide until further notice.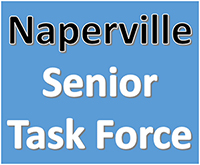 The Senior Task Force, which was established at the direction of the 2014 Naperville City Council, is helping address the unique needs of Naperville's growing senior population. As of the most recent census figures in 2018, more than 17,000 Naperville residents were over the age of 65, which accounts for almost 12 percent of the City's population.
This group promotes coordination among existing senior service providers in the Naperville area; improves awareness among seniors of available resources to assist them; and develops recommendations to address service gaps related to transportation challenges, housing concerns and healthcare resources.
To ensure seniors' needs are being met, the task force will also work with service providers to promote efficiencies and new partnerships that address local needs. The group will also proactively reach out to seniors for their thoughts and ideas via interviews, workshops, focus groups and surveys. Regular reports will be issued to the Mayor and City Council on the task force's findings.
Meeting Information
The Senior Task Force meets at 8 a.m. on the second Tuesday of each month in the Naperville Employee University (NEU) room on the lower level of the Naperville Municipal Center, 400 S. Eagle St.
Senior Task Force News and Events
Community Christmas Meal
Seniors and families in need can make a reservation to receive delivery of up to two meals per household from the YMCA and the Naperville Park District, in lieu of the traditional Christmas luncheon.
Volunteers will deliver meals between 10 a.m. and 2 p.m. on Christmas Eve, Thursday, Dec. 24, and recipients must be home during the full delivery window. Reheating instructions will be provided.
To make a meal reservation, contact Marcia McKenna by Wednesday, Dec. 16 at mmckenna@ymcachicago.org or (630) 579-5705. Please provide your name, home address, phone number, email address and whether you are requesting one or two meals. The program will provide meals for up to 200 people, and reservations may fill before the deadline.
Technology Assist Naperville
Developed by the STF, Technology Assist Naperville helps seniors use technology in their daily living activities to stay connected to families and friends. There is no charge for services, which include:
Setting up your new computer, tablet, or smartphone;
Setting up your home Wi-Fi network;
troubleshooting applications; and more.
Contact seniortaskforce@naperville.il.us or call (630) 640-0804 to give a brief description of what help you need, and the STF will assign a volunteer to get in touch with you.
More Information on Technology Assist Naperville
In the News: Technology Assist Naperville
Tablets to Seniors Program
AgeGuide Northeastern Illinois and T-Mobile have teamed up to provide an internet-connected tablet to adults 60 and older to help connect them to their family, friends and community through technology on a prepaid data plan of up to 2 years. To see if you, or someone you know qualifies, contact Alaine Kvedaras at (630) 293-5990 or akvedaras@ageguide.org. To learn more about the program, including requirements, or apply, click here.
Dementia Friendly Naperville
Through the efforts of the Senior Task Force and a committee comprised of individuals from numerous organizations in the community, Naperville is proud to have been named a Dementia Friendly City in late 2020. This designation from Dementia Friendly America showcases Naperville as a community that "fosters the ability of people living with dementia to remain in the community and engage and thrive in day-to-day living."
Per the Dementia Friendly America website, a dementia friendly community "is a village, town, city or county that is informed, safe and respectful of individuals with the disease, their families and caregivers and provides supportive options that foster quality of life."
Learn more about the efforts of the Dementia-Friendly Naperville Action Group, which was started by members of the Senior Task Force, in this NCTV17 news story. View federal, state, and local resources meant to enhance the lives of those with dementia and their caregivers by clicking on the link below.
View Dementia Friendly Resources
Did You Know? Caring Hands Program
The new City of Naperville Caring Hands Program allows residents to voluntarily provide Naperville's first responders with critical information about themselves or loved ones with developmental, cognitive, mental, medical and/or physical disabilities who may require special assistance during an emergency or non-emergency situation.