Senior Task Force
2019 Healthy, Wealthy and Wise Senior Conference Registration
Registration for the 2019 Healthy, Wealthy and Wise Senior Conference begins August 3, 2019. To register, please call (630) 969-0992 and reference "Healthy, Wealthy and Wise" after August 3.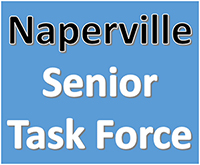 The Senior Task Force, which was established at the direction of the 2014 Naperville City Council, is helping address the unique needs of Naperville's growing senior population. As of the most recent census figures in 2018, more than 17,000 Naperville residents were over the age of 65, which accounts for almost 12 percent of the City's population.
This group promotes coordination among existing senior service providers in the Naperville area; improves awareness among seniors of available resources to assist them; and develops recommendations to address service gaps related to transportation challenges, housing concerns and healthcare resources.
To ensure seniors' needs are being met, the task force will also work with service providers to promote efficiencies and new partnerships that address local needs. The group will also proactively reach out to seniors for their thoughts and ideas via interviews, workshops, focus groups and surveys. Regular reports will be issued to the Mayor and City Council on the task force's findings.
Senior Task Force News and Events
2019 Healthy, Wealthy and Wise Senior Conference
The Naperville & Lisle Townships TRIAD, in partnership with the City of Naperville, is excited to present the 2019 Healthy, Wealthy and Wise Senior Conference on Friday, Sept. 13, from 8:30 a.m. to noon at the Naperville Municipal Center, 400 S. Eagle St.
This year's conference will include a presentation on DuPage Medical Group's state of the art BreakThrough Care Centers and how they fit into a vision for senior health and wellness presented by Richard A. Krouse, MD, of DuPage Medical Group. The second presentation, delivered by Eleni Tzavaras of AAA, will share the top local, national and global travel destinations for seniors and offer essential travel tips and tricks to ensure your trip is memorable for all the right reasons. Naperville Police Department Crime Prevention Specialist Julie Smith will also educate attendees about REAL ID, a form of identification that will be required to fly after Oct. 1, 2020.
Attendees will also have the opportunity to browse through community resource exhibits, participate in raffles, enjoy refreshments and take part in free blood pressure screenings.
Admission is free, but space is limited and advanced registration is required. A complimentary lunch voucher will be given to registered participants who are in attendance for the entire event.
Registration begins August 3. To register, please call (630) 969-0992 and reference "Healthy, Wealthy and Wise" after August 3.
Silver CPR Class - Save the Date
The Senior Task Force recently concluded its final spring "Silver CPR" class and assisted in the training of over 100 seniors as they learned the basics of CPR/AED/signs of choking for adults, children and infants using American Heart Association techniques. Thanks to the Naperville Fire Depatment for leading these classes.
The next class is scheduled for November 2019. Check back for more details in the near future.
2019 Senior of the Year
The Senior Task Force is currently reviewing nominations to select the 2019 Senior of the Year.
The winner will be announced and honored with an award presented at the August 20 Naperville City Council meeting. National Senior Citizen's day, which takes places on August 21, 2019 was proclaimed by President Ronald Reagan in 1988 as a day for the country to demonstrate its gratitude and esteem for its older citizens.