Senior Task Force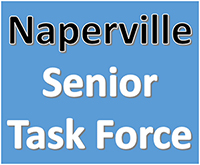 The Senior Task Force, which was established at the direction of the 2014 Naperville City Council, is helping address the unique needs of Naperville's growing senior population. As of the most recent census in 2010, more than 12,000 Naperville residents were over the age of 65, which accounts for almost 9 percent of the City's population.
This group promotes coordination among existing senior service providers in the Naperville area; improves awareness among seniors of available resources to assist them; and develops recommendations to address service gaps related to transportation challenges, housing concerns and healthcare resources.
To ensure seniors' needs are being met, the task force will also work with service providers to promote efficiencies and new partnerships that address local needs. The group will also proactively reach out to seniors for their thoughts and ideas via interviews, workshops, focus groups and surveys. Regular reports will be issued to the Mayor and City Council on the task force's findings.
Senior Task Force News and Events
Senior CPR Class in March
The Senior Task Force has partnered with the Naperville Fire Department to offer a free CPR class to senior citizens at 9 a.m. on Wednesday, March 6, at the Safety Town campus, 1320 Aurora Ave. This two-hour class is intended for people who do not need a CPR/AED course completion card for a job or other requirements and is ideal for those who are interested in learning skills on how to save a life. The class emphasizes maximum compressions as the key to the CPR process. If interested, please contact STF member Rob Williams at (630) 951-1762 or Robonmain@comcast.net by no later than Friday, Feb. 15. Please note there is a 25-person maximum for this class.
Please note, this class was originally scheduled to take place on Tuesday, Feb. 26. Due to unforeseen circumstances, the class has been rescheduled to March 6. All other information, including class time and location, is the same.