Specialty Teams
Naperville Fire Department personnel are prepared to meet the emergency response needs of the community – and the region. The Department's four specialty teams serve as resources for area response and collaborate with local mutual aid partners to operate as regional response teams within their own discipline when necessary.
Hazardous Materials Team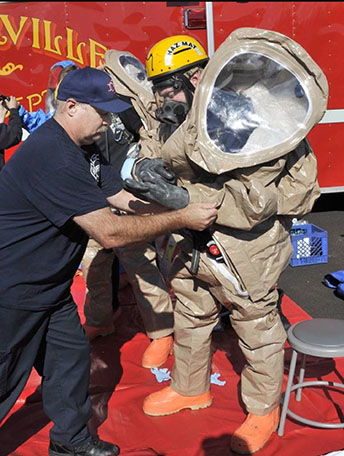 When the chemicals residents and businesses use regularly become a hazard to the public's safety, the Naperville Fire Department's Hazardous Materials (HazMat) Response Team is prepared to quickly and efficiently mitigate the risk of injury to the public.
The Hazardous Materials Team responds to mitigate incidents involving chemical transportation accidents and chemical spills in business/manufacturing facilities. The HazMat Team also provides staff and technical expertise to the City of Naperville's Household Hazardous Waste program, which is one of only four permanent programs in the state.
Team members continually increase their skills by attending classes, in-house monthly training and ongoing drills with neighboring departments' hazardous materials teams.
Technical Rescue Team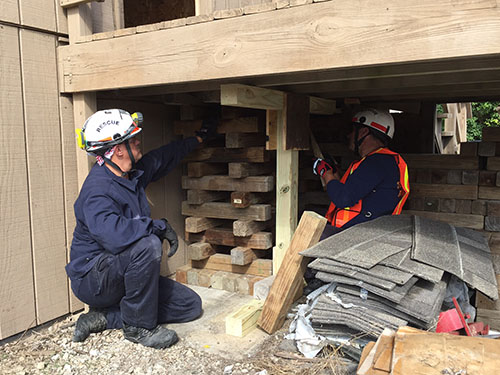 The Naperville Fire Department Technical Rescue Team responds to incidents involving confined spaces, trenches, collapsed structures and high angle or elevated rescue. The team also responds for incidents requiring the extrication of victims from vehicles and machines.
The Naperville Fire Department Technical Rescue Team is comprised of 34 members with 17 members holding Technician level certification in all four Technical Rescue disciplines: Confined Space Rescue, Collapse Rescue, High Angle Rescue, and Trench Rescue.
Team members continually increase their skills by attending outside classes, in-house monthly training and quarterly drills with neighboring departments' technical rescue teams. This continuous team and individual training is of paramount importance to maintain a high degree of functional capability for safely and effectively handling operations at a technical rescue incident.
In addition to team training, the team has access to an extensive cache of specialized equipment, including power and hand tools for collapse rescue, saws and rotary hammers for concrete cutting and breeching, and harnesses for high angle rescue.
Tactical Emergency Medical Support Team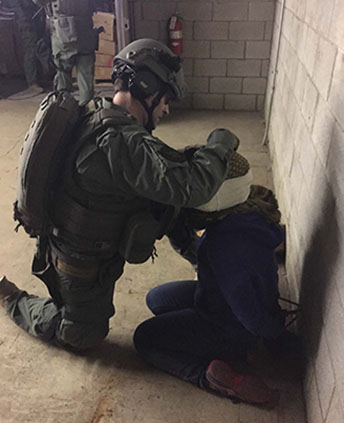 The Naperville Fire Department's Tactical Emergency Medical Support (TEMS) team is trained to provide the citizens of Naperville and the Naperville Police Department with advanced medical care in an austere and hostile environment.
The TEMS team members – each equipped with high-quality ballistic protection and state-of-the-art medical supplies – provide immediate access to medical care, allowing the stabilization of injuries and triage of victims despite hazardous conditions that might otherwise delay treatment.
Each team member is a state licensed Paramedic and certified in Pre-Hospital Trauma Life Support (PHTLS) and logs 204 hours of specialized training annually. By the end of 2016 all team members will be certified Tactical Paramedics by the International Board of Specialty Certification.
Water Rescue Team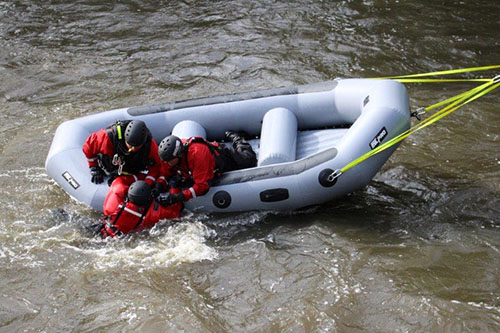 If a driver loses control and drives into an icy pond, the department's Water Rescue Team (WRT) is equipped to rescue the driver and passengers.
The Naperville Water Rescue Team, one of the highest trained teams in Illinois, consists of approximately 30 members of the Naperville Fire Department. These members are divided equally which allows approximately 10 WRT members per shift, all of whom are certified to handle situations on surface, sub-surface, ice, as well as flood/swiftwaters.
NFD WRT continues to train three times every month and is very active within the region's Water Rescue Team. The team trains on basic skills and patterns at Centennial Beach and Neuqua Valley High School with the assistance of on-duty companies.