Electric Rates
Components of Your Electric Bill
Monthly Charges
Residential Electric Utility customers pay a monthly customer charge and a monthly energy usage charge per kilowatt hour (kWh). The monthly customer charge provides a stable revenue source to cover the fixed costs of the utility, while energy charges are based upon customers' energy usage. In addition to these charges, certain classes of commercial customers also see a monthly demand charge on their bills.
2020 Rates
Electric customers will once again see a 2% decrease in their electric rates in 2020. This is the result of a 2018 rate study that determined financial needs for the utility through 2021. Through Electric's cost-containing efforts and implementation of a Purchased Power Adjustment to help mitigate spikes in the cost of power, it was determined a yearly decrease would allow the utility to remain on sound financial footing.
As of January 2020, the average residential electric customer is paying $107.60 per month on their electric bill; this is 9.3% lower than ComEd's residential rates.
Below is a table outlining charges to the most common customer classes effective January 2020. Commercial customers are encouraged to utilize the averages provided to help calculate their bills, as bills can vary widely from one business to the next. Customers wanting more information specific to their business or organization are encouraged to contact Customer Connections Manager Maher Diab at (630) 420-4184.
Customer Class
2020 Rates
Monthly Customer Charge
Energy Charge (kWh)
Demand Charge (kWd)
Average Monthly Electric Bill

Residential
Average kWh = 844

$15.60
$0.1090
N/A
$107.60
Small Commercial (GS1)
Average kWh = 1,865
$30.65
$0.1102
N/A
$237

Large Commercial (GS2)
Average kWh = 2,500
Average kWd = 100

$30.65
$0.0476
$22.09
$2,359

Very Large Commercial (GS2)
Average kWh = 50,000
Average kWd = 225

$30.65
$0.0476
$22.09
$7,381

Extra Large Commercial (GS2)
Average kWh = 220,000
Average kWd = 750

$30.65
$0.0476
$22.09
$27,069
Purchased Power Adjustment
The Purchased Power Adjustment (PPA) first appeared on utility bills in Naperville in 2016. This is a monthly adjustment on your electric bill based on actual power costs. The PPA changes monthly and is based on a six-month rolling average.
As part of the 2018 rate study, the utility also adjusted how the PPA is calculated. This move, which better matches the PPA with anticipated costs of buying power, will result in the average residential customer saving $25 in 2020 over what they would have originally paid.
Take a look at the below graphic to learn more about what a PPA means for your monthly electric bills.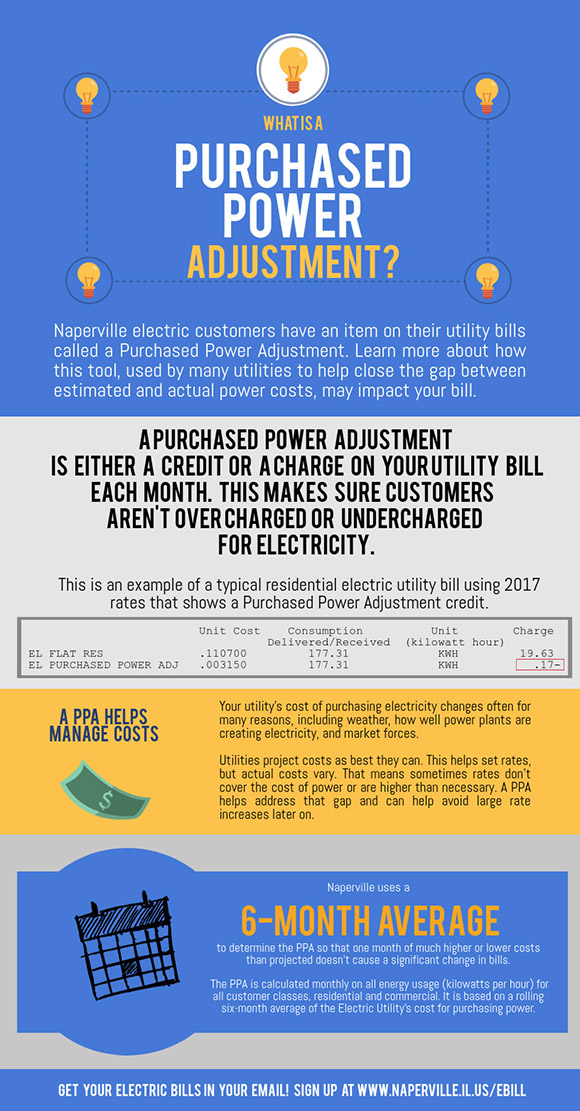 Comparisons
Naperville enjoys some of the most competitive electric rates in the greater Chicago area when compared to communities serviced by ComEd or through municipal aggregation contracts.