Nitra, Slovakia
Naperville's First Sister City
In 1989, with the fall of the Iron Curtain, a group of Naperville citizens began exploring the possibility of developing a Sister Cities relationship with one of the emerging democracies.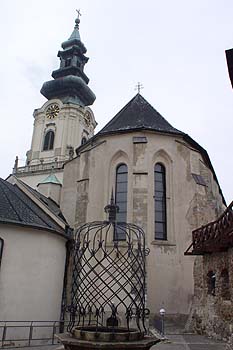 The Naperville City Council supported the concept and a partnership with Nitra, Slovakia was formalized on November 17, 1993.
Located 90 miles east of Vienna, Nitra is the fourth largest city in Slovakia, with a population of approximately 100,000. This 6,000-year-old city is nestled in a valley surrounded by seven rolling hills. Although geographically distant, Nitra and Naperville share many similarities. Both communities:
Developed from an agricultural base and now support technical industries;
Have similar climates;
Enjoy a river walk and a nearby arboretum;
Place a high value on education and are college towns;
Benefit by the presence of service organizations, such as the YMCA and the Lions Club; and
Enthusiastically support athletics, the arts and family centered activities.