Pátzcuaro, Mexico
Naperville's Second Sister City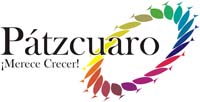 The city of Pátzcuaro, Mexico officially became the City of Naperville's second Sister City on Saturday, November 13, 2010 with a signing and flag raising ceremony.
Pátzcuaro was chosen in part because of its similarities to Naperville, including its strong emphasis on primary, secondary and higher education, its honor of history and the arts, a strong and growing economy and ease of transportation. The purpose of the Sister Cities relationship is to encourage cultural exchange between the two communities and establish lasting educational and economic ties.
Interesting facts about Pátzcuaro, Mexico:
Pátzcuaro was named by the United Nations as one of the 100 Historic Treasure Cities, and has dedicated money for restoration of its Tarascan heritage. The main plaza area, with its cobblestone streets, stone benches and large fountain highlight its Tarascan Indian descendants.
The city is the market hub of the region. Handmade products include copperware, black pottery, musical instruments, woven textiles, woolen blankets and straw and reed baskets. Its central location draws artists and craftsmen from a multitude of neighboring villages.
Lake Pátzcuaro is a tourist highlight. Its proximity to the ancient ruins of Ihuatzio and Tzintzuntzan make it a well-visited location for shopping and sightseeing.