City Leadership in Sustainability
The City of Naperville aims to be a leader in environmental sustainability. Through partnerships with organizations, residents and businesses, the City incorporates innovative environmental practices into internal operations and community-wide services in order to create a livable and resilient community for all. The City of Naperville passed a resolution to adopt the Greenest Region Compact in 2017, joining a regional initiative to build vibrant, sustainable communities. In August 2021, the City adopted a Sustainability Workplan to guide our actions, and we continue to work toward sustainable approaches to stewarding our natural resources, improving transportation and providing waste and recycling, energy and building and development services. The City is a member of the DuPage Mayors and Managers Conference, the Metropolitan Mayors Caucus, the Midwest Climate Collaborative and ICLEI – Local Governments for Sustainability, a global network of more than 2,500 agencies committed to sustainable development. Learn more below about the recognition the City has received for our sustainable successes thus far.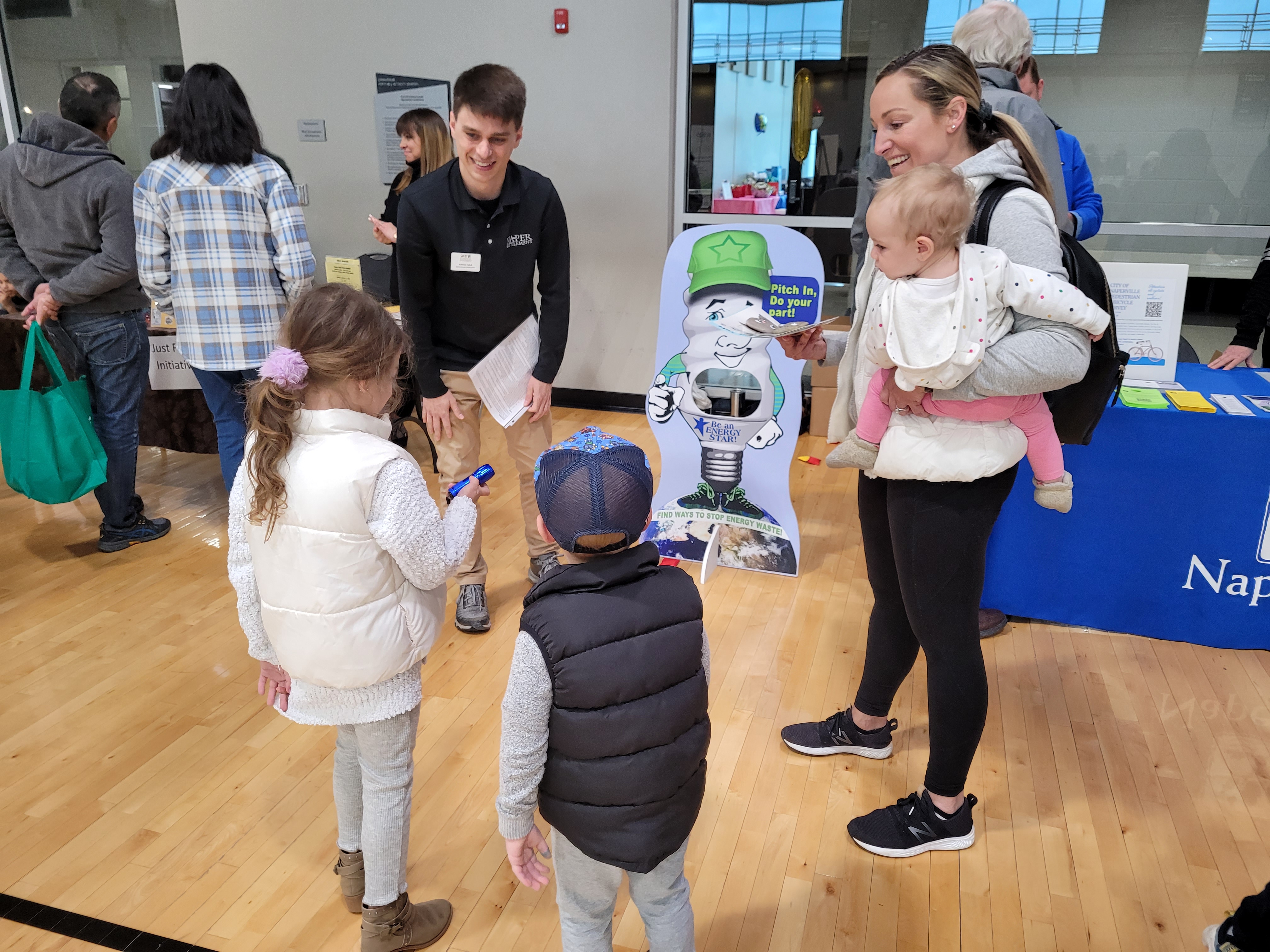 The City's Cross-Departmental Sustainability Team engages with the public at the 2023 Earth Day Fair. Photo Courtesy of Naperville Park District.
Sustainability Highlights
Naperville strongly supports the pursuit of more clean, renewable energy, including the installation of solar panels right here in the community. Beyond our Renewable Energy Program, which offers rebates to residents, businesses and other organizations who choose to install solar panels on their property, the City has invested in solar energy installations on the Municipal Center (56.3 kW capacity, installed in October 2018), Public Works Service Center (54.7 kW capacity, installed in February 2020), and the Electric Service Center (57.8 kW capacity, installed in December 2020). Energy generated by these solar installations is used directly at these buildings, thereby reducing the City's demand for electricity from the grid. This helps lower carbon dioxide emissions and pollution from power plants and reduce our energy costs.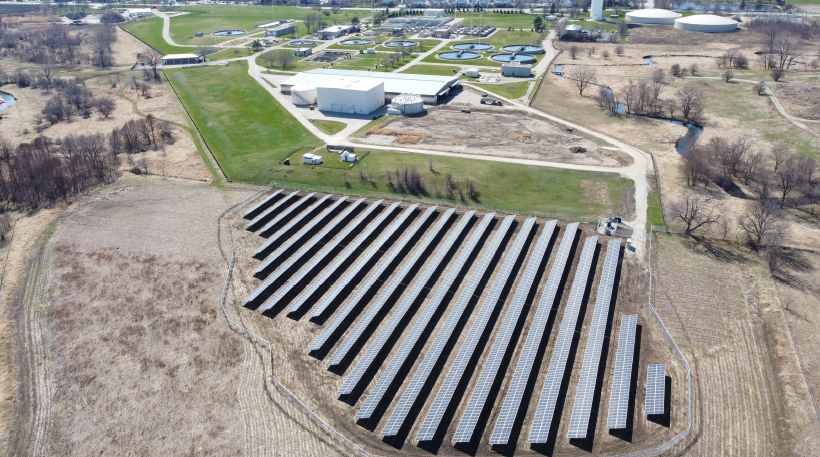 The City of Naperville collaborated with the Illinois Municipal Electric Agency and partners to install 3,348 solar panels at the City's Springbrook Water Reclamation Center.
Sustainability Awards
Illinois Alliance for Clean Transportation: Public-Private Partnership Award
In December 2021, the City – along with Trillium, a private compressed natural gas (CNG) provider, and Groot Industries, the City's refuse contractor – received this award from the Illinois Alliance for Clean Transportation for Naperville's first public CNG fueling station, which opened in late 2020 to help reduce emissions from fleet vehicles.
City staff began investigating a transition from oil-based fuels to CNG in 2013. In 2018, the City agreed to lease land for a CNG station to Trillium. In return, Trillium agreed to build the station and fund the $3 million construction cost – with the help of a $300,000 Drive Clean Chicago grant the City secured in 2016. Groot then agreed to a long-term purchase agreement with Trillium, making the project a better deal for all involved – especially the environment!
The unstaffed station at 1720 W. Jefferson Ave. is open to the public, as well as City and Groot vehicles, 24 hours a day with multiple CNG dispensers for light- and heavy-duty fueling. The City fleet currently includes three CNG vehicles as well as five that run on propane, 11 electric vehicles and 16 hybrids. Groot has roughly 30 percent of its 75 contractor vehicles running on CNG.
Solsmart Designation

The City is participating in the SolSmart Program, funded by the U.S. Department of Energy's SunShot initiative, which helps local governments reduce barriers to solar energy growth. The City achieved SolSmart Silver status in May 2019 by meeting a set of national standards for solar permitting, inspection, planning and zoning.
The City is committed to making it faster, easier and more affordable for homes and businesses to go solar. Learn about installing solar panels in Naperville.
Illinois Governor's Sustainability Award
The City was one of 25 public and private organizations honored with the Illinois Governor's Sustainability Award in November 2016. This award recognized Citywide environmental sustainability efforts, including a water leak detection survey; the Household Hazardous Waste Facility, which opened in 2015; the recycling cart program; the Emerald Ash Borer treatment program; and plans to construct a compressed natural gas (CNG) fueling station, which opened in late 2020.
Tree City USA
Naperville has been recognized as a Tree City USA for 30 years. The City recognizes the power of trees to beautify and lend value to homes, neighborhoods, parks, shops and commercial areas. Trees conserve energy, help clean the air, protect rivers and streams and provide a habitat for wildlife. Naperville's Forestry Division maintains parkway trees, runs an annual tree sale and encourages residents to consider planting additional trees on their own property.
Additional Awards
America in Bloom Award
American Planning Association, Illinois Chapter –Toolkit for Successful Redevelopment – Silver Award (2007)
Arbor Day Foundation Growth Award (20 years)
Conservation Foundation – Clean Water for the DuPage River Basin (2008 and 2006)
Conservation Foundation – Sustainable Development Award, Naper Settlement (2012)
DuPage Clean River Award
Governor's Sustainability Award – Home Energy Savings Program (2011)
Illinois Recycling Association Award – Outstanding Government Leadership Award
Kane-DuPage Soil & Water Conservation District Award of Excellence – Naper Settlement Conservation of Land and Water Resource (2012)
League of American Bicyclists: Bicycle Friendly Community – Bronze Award (2015)