Natural Resources
Learn about City of Naperville programs, services, projects and resources that help preserve and protect our natural resources.
Healthy Yards and Healthy Communities
The actions we take to maintain our yards can have direct consequences for the health of our community and our rivers. These ideas and resources can help achieve a beautiful yard while also caring for the environment.
Plant a tree. Each year, the City hosts an Arbor Day Tree Sale, in which residents can choose from a number of container-grown species including maples, oaks and elms for use in beautifying their yards and sustaining the environment.
Replace turf grass with native and deep-rooted plants.
Collect rainwater in a rain barrel. Order your own here.
Consider installing a native planting pollinator garden.
Create a Monarch Waystation

The City encourages residents to plant habitats for monarch butterflies to lay eggs. Habitats that meet criteria established by the Monarch Watch organization can become certified as a Monarch Waystation.
A Beautiful Yard Without Pesticides
Studies show that use of lawn chemicals can have environmental ramifications, especially for children. These chemicals potentially can contaminate surface and groundwater, affect outdoor and indoor air quality, and threaten the health of pets and wildlife. Alternative approaches include:
Leave grass clippings on the lawn to act as a natural fertilizer.
Overseed to fill in existing bare spots in the late summer or early fall. This approach will prevent weeds from taking over these spaces in the spring.
Aerate your soil to facilitate healthy grass growth.
Keep your mower blade setting at least 2-3 inches tall to allow your grass to developer deeper, more drought-resistant roots.
Have you also considered using native plants in your landscaping? Join the many homeowners who have incorporated native plants into their landscapes to create beautiful outdoor spaces, invite birds and butterflies to their yards, reduce their use of water, fertilizers and pesticides and protect our rivers.
The Conservation Foundation's Conservation@Home program offers free advice and ideas to help eliminate chemical use, incorporate earth-friendly landscaping and create native gardens.
Electric Lawn Equipment Rebate - Pilot Program Complete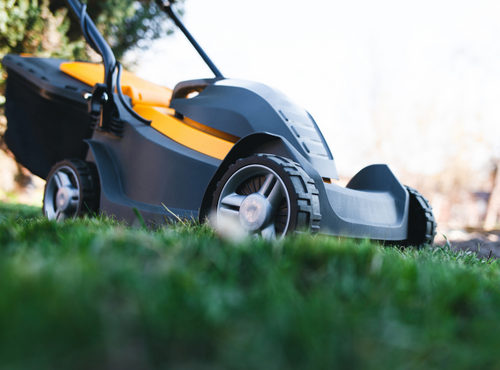 With many thanks to our sustainability-minded residents, the City of Naperville concluded a very successful pilot of our Electric Lawn Equipment Rebate Program in August 2022. Within just four days, residents received all available rebate funds. Stay tuned for an announcement when more funding for electric lawn equipment rebates is available.
The new electric lawn equipment supported through this incentive is cleaner and quieter than gas-powered models. It will help decrease harmful air pollution and prevent spilled oil and gas from seeping into groundwater, polluting rivers and streams or damaging lawns and paved surfaces.
Compost and Yard Waste Services