Environmental Sustainability
New Smart Thermostat Rebate Program
The City of Naperville's Electric Utility is now offering a one-time $50 rebate for residential utility customers when they buy and install any smart thermostat, beginning with units purchased on or after May 1, 2018. Visit www.naperville.il.us/thermostatrebate for more information.
To provide services that ensure a high quality of life for our residents and a dynamic environment for our business community through collaboration, innovation, and sound fiscal management.
Sustainable approaches to providing local government services helps to ensure a higher quality of life for future generations. True to its mission, Naperville's sustainability successes have largely been achieved through many partnerships with organizations, businesses and residents. Likewise, a willingness to pursue innovative sustainable solutions have repeatedly resulted in cost efficiencies in line with the City's sound fiscal management philosophy.
CY2017 Sustainability Report - New and improved format now available!
Over the last seven years, the annual report of sustainability efforts by the City of Naperville has evolved. What was once a simple memo was transformed into a colorful, magazine-styled report in 2013. The report focuses on providing metrics to understand the impact of sustainability efforts in terms of fiscal benefits, natural resource benefits, energy savings and more.
We are excited to announce that this report has migrated to the City's Open Data Portal. This move is in concert with the City of Naperville's commitment to the use of data and evidence to improve services, inform local decision-making and engage residents. The new format provides the public with raw data in addition to a dashboard monitoring the progress of our performance management goals. All the same categories of information that have been reported since 2010 are included in the portal. Two important benefits of this format include:
Ability to update the data more frequently than an annual report
Access to raw data for those who want to further analyze the information
This report is now an inviting and engaging report going more in-depth into the City's sustainability efforts.
Does Your Business Have a Refillable Water Station?
As you are looking to make more sustainable design choices (e.g. LED lighting, water saving fixtures, solar applications, etc.), have you considered replacing your drinking fountain with a refillable water station? This simple and relatively inexpensive change can make a positive difference in your environmental footprint. Installations are popping up across Naperville as our schools, Park District and businesses seek to be more sustainable.
Looking for Data?
In 2010, the Naperville City Council approved the Environmental Sustainability Plan. The plan established a long-term vision for environmental sustainability in Naperville and serves as a guide for the city's actions related to environmental leadership and initiatives.
Since approving the plan, Naperville has implemented a number of initiatives and programs that continue to positively impact the community and environment. The efforts of the City are documented through the City's Open Data Portal.
News
Fall Gardening Tips
Prune trees, such as oaks and maples. Do NOT prune Spring flowering shrubs. Pruning them now will re-move the flowers.
Fall is a great time to plant new trees and shrubs because the roots will have plenty of time to get established before Spring.
Be sure that your trees, shrubs and evergreens get plenty of water before the ground freezes. Apply a layer of mulch around these plants to help reduce winter injury.
Divide perennials that have gotten too big and put them in other parts of your garden or share them with a neighbor.
Don't put your leaves on the curb for collection. Improve your garden soil by adding manure, compost and leaves to replace nutrients lost over the summer.
If you have a rain barrel, be sure to drain it and leave the spigot open, remove the linking hose cap and turn the barrel on its side or upside down to avoid getting water in it over the winter.
Once you are done watering your plants, disconnect and drain your garden hose.
Clean your garden tools before storing.
Make sure your snow blower is serviced and ready to go.
Earth Week Naperville 2018 Brings the Community Out in Force!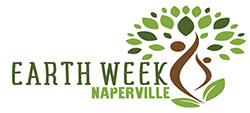 The week kicked-off with a shredding event on Saturday, April 21 followed by the Earth Day Fair on Sunday, April 22. It is estimated more than 1,000 people attended these two events. During the work week, residents participated in a variety of clean-up projects at our parks, schools and other locations around Naperville. On Saturday, April 28, residents made their way to the annual City of Naperville Arbor Day tree and rain barrel sale, a fruit tree guild planting ceremony at the Naperville Municipal Center and Naperville Police Department's medication recycling drop-off event. Earth Week Naperville concluded with more than 400 attendees participating in a town hall event featuring WGN Meteorologist Tom Skilling and Nobel Peace Prize Climate Scholar Don Wuebbles at Naperville Central High School. Thank you to everyone who participated in Earth Week Naperville!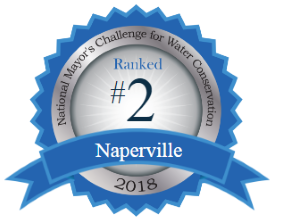 Mayor Steve Chirico joined mayors across the country in asking residents to make a long-term commitment to manage water resources more wisely by taking part in the annual Wyland National Mayor's Challenge for Water Conservation.
The results are in! Naperville ranked #2 in our population category of the 2018 Wyland National Mayor's Challenge for Water Conservation (10 spots higher than 2017)!
Thank you to everyone who participated and made the pledge to help Naperville become a water and energy saving community! The competition mode is over, but you and your family can still make a pledge that lasts all year long! Make a pledge at www.mywaterpledge.com from now until March 31, 2019 and you'll be entered to win a piece of art picked out by marine life artist and conservationist Wyland.
Pollination Station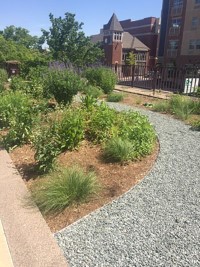 The City of Naperville is proud to have planted a pollination station in a plot of land above the east entrance to the lower level of the Municipal Center. This garden features a variety of native plant species that can offer a habitat for butterflies and other pollinators. This demonstration garden is a way to educate our community on the benefits of alternate landscaping options and inspire them to learn more about this type of gardening.
Learn about Naperville's Pollination Station
A Beautiful Yard without Pesticides
Studies show that use of lawn chemicals can have environmental ramifications, especially for children. The chemicals can potentially contaminate surface and groundwater, affect outdoor and indoor air quality, and threaten the health of pets and wildlife. Have you considered alternative approaches, such as:
Leave grass clippings on the lawn to act as a natural fertilizer.
Overseed to fill in existing bare spots in the late summer or early fall. This approach will prevent weeds from taking over these spaces in the spring.
Aerate your soil to facilitate healthy grass growth.
Keep your mower blade setting at least 2-3 inches tall to allow your grass to developer deeper, more drought resistant roots.
Have you also considered using native plants in your landscaping? Join the many homeowners who have incorporated native plants into their landscapes to create beautiful outdoor spaces, invite birds and butterflies to their yards, reduce their use of water, fertilizers and pesticides and protect our rivers.
Learn More About Native Plants
Monarch Waystation
The monarch migration is truly one of the world's greatest natural wonders. Did you know that the monarch butterfly is in desperate need of habitats to lay its eggs? The City of Naperville would like to encourage residents to plant monarch waystations in their own backyards. If your monarch habitat meets or exceeds the general description of a Monarch Waystation set forth below, your habitat may be certified by Monarch Watch as a Monarch Waystation. You may also choose to purchase a weatherproof sign to display, identifying your habitat as an official Monarch Waystation. See the Monarch Waystation tips (PDF) for more information.