Environmental Sustainability
National Mayor's Challenge for Water Conservation
Protect the planet and help make Naperville the most water wise in the nation!
Take the Pledge
Sustainable approaches to providing local government services helps to ensure a higher quality of life for future generations. True to its mission, Naperville's sustainability successes have largely been achieved through many partnerships with organizations, businesses and residents. Likewise, a willingness to pursue innovative sustainable solutions have repeatedly resulted in cost efficiencies in line with the City's sound fiscal management philosophy.
Earth Week Naperville 2019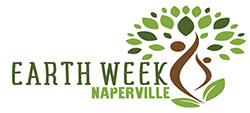 Earth Week Naperville 2019 includes an Earth Day Fair that will be held from 1 to 4 p.m. Saturday, April 27 at the Naperville Park District's Fort Hill Activity Center, 20 Fort Hill Drive. The family-friendly interactive event will feature community organizations and eco-friendly exhibitors. Prior to the fair, there will be a shredding event from 8 to 11 a.m. (or until the truck is full) April 27 at the Activity Center. The limit is two boxes. The City of Naperville's Arbor Day Tree Sale will be held from 8 a.m. to noon at the Public Works Service Center, 180 Fort Hill Drive. Residents also can pick up their rain barrels at the event, which must be ordered prior to the tree sale. During the week, residents can participate in a variety of clean-up projects at our parks, schools and other locations throughout Naperville.
City of Naperville Pursuing SolSmart Designation
Have you considered installing solar panels? The City of Naperville is participating in the SolSmart Program, funded by the U.S. Department of Energy SunShot Initiative, which helps local governments reduce barriers to solar energy growth and makes it easier for homes and businesses to go solar. For the past 10 months, the City has been working with 20 other communities in the region in pursuit of SolSmart status. The official designation will be presented in May. The City of Naperville is happy to assist you by offering a streamlined permitting process and information for your consideration. Check out our solar landing page at: https://www.naperville.il.us/services/electric-utility/powering-our-community-for-the-future/solar-panel-guidelines/
Smart Thermostat Rebate
The City of Naperville's Electric Utility is offering a one-time $50 rebate for residential utility customers when they buy and install any smart thermostat, beginning with units purchased on or after May 1, 2018. Visit www.naperville.il.us/thermostatrebate for more information.
Rain Barrels
Have you ever thought about a rain barrel to provide you with a free irrigation option? Rain barrels are used to capture rain water from your roof for reuse in watering garden spaces. Rainwater is better for plants and soil because it is free from the salts, ions, and fluoride found in tap water. Just as importantly, rain barrels capture water that would otherwise runoff and could harm area streams and rivers.
The City will be selling rain barrels in conjunction with the annual Arbor Day Tree Sale on Saturday, April 27, 2019 from 8 a.m. to noon at the Public Works Service Center. If you are looking for potential money savings, a healthier garden and yard, and to reduce your eco-footprint, investment in a rain barrel may be just for you! Orders should be placed online prior to the event at Upcycle Products.
Spring Tips
Here are some great resources to start you on your green path towards holistic, chemical-free, earth friendly living.
Green up your life with native plants! This website lists many of the local plant sales in the area: https://dupage.wildones.org/nativeplantsales/
Looking at where to plant that little tree you bought? Try the Energy Saving Trees website which identifies the most economically sound locations for trees. http://energysavingtrees.arborday.org/#Home
Complete your spring cleaning the green way. Discover the U.S. EPA's Safer Choice program which offers a listing of products that pass their high chemical standards for safety: https://www.epa.gov/saferchoice
Looking to green more than just your cleaning arsenal? Try the Non-profit, Environmental Working Group, EWG, that reviews, rates and provides recommendations on everything from cosmetics to food and water filters: http://www.ewg.org/
And finally what about all that junk in your storage closest, basement or garage? Besides our fabulous website, www.dupageco.org/recycling, try Earth911. A perfect catch-all for the odds-n-ends questions you might have: http://www.dupageco.org/recycling.
Looking for Data?
In 2010, the Naperville City Council approved the Environmental Sustainability Plan. The plan established a long-term vision for environmental sustainability in Naperville and serves as a guide for the city's actions related to environmental leadership and initiatives.
Since approving the plan, Naperville has implemented a number of initiatives and programs that continue to positively impact the community and environment. The efforts of the City are documented through the City's Open Data Portal.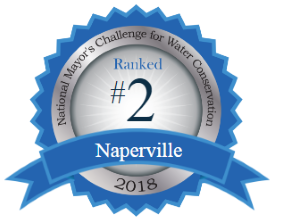 Mayor Steve Chirico has one again joined mayors across the country in asking residents to make a long-term commitment to manage water resources more wisely by taking part in the annual Wyland National Mayor's Challenge for Water Conservation.
In 2018, Naperville ranked #2 in our population category of the Wyland National Mayor's Challenge for Water Conservation! Let's reconfirm our commitment and become the number one City to manage resources more wisely in 2019!
The Wyland National Mayor's Challenge for Water Conservation is less than a month away! Tell your friends, families, neighbors and businesses to make a pledge for water conservation on behalf of your city, starting April 1-30. Plus, you could win up to $50,000 in eco-friendly prizes, including $3,000 toward your home utilities for a year and a 2019 Toyota Highlander Hybrid for a deserving charity in your area.
City Received the Governor's Sustainability Award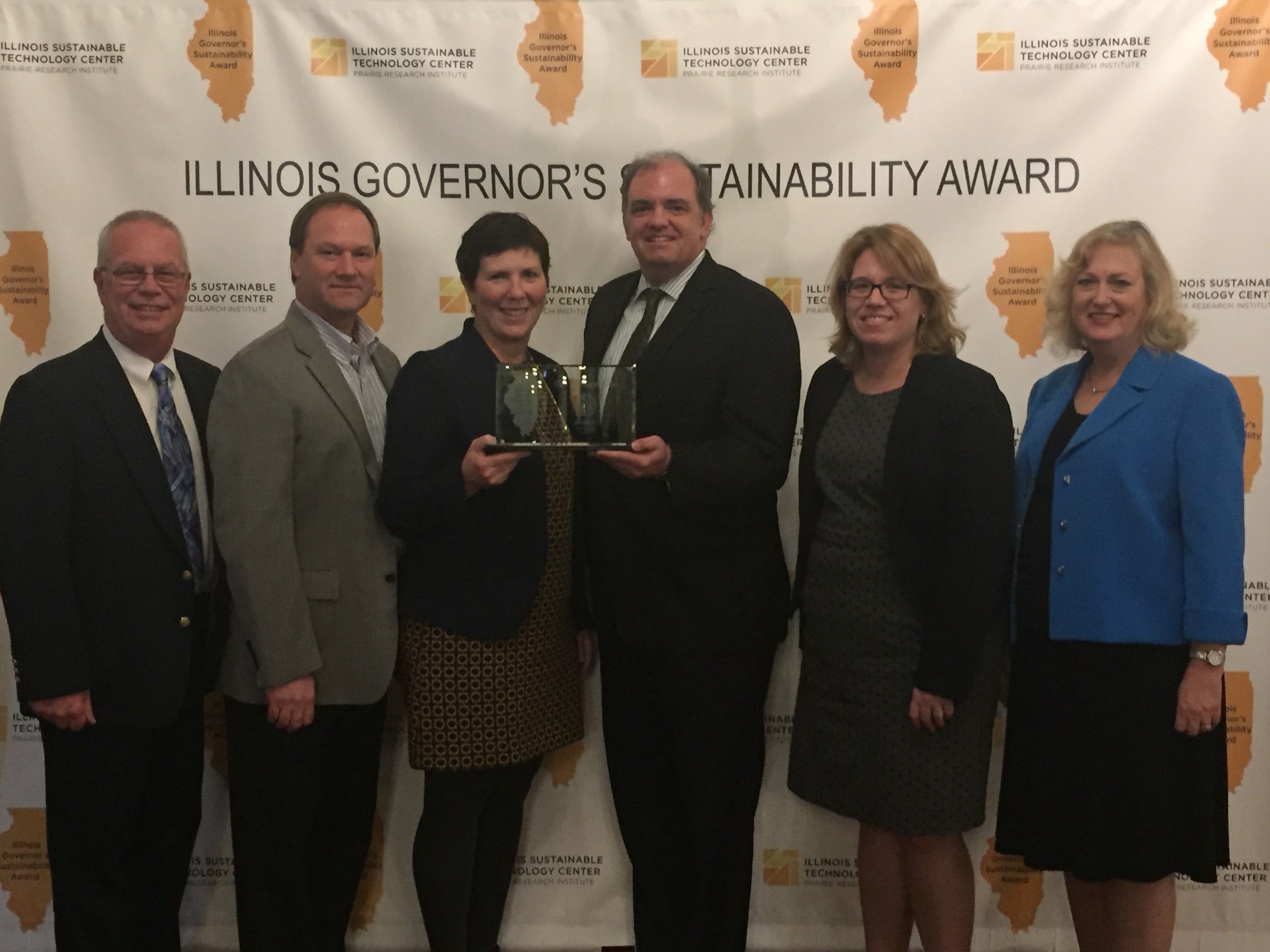 In November 2016, the City was one of 25 public and private organizations honored with the Illinois Governor's Sustainability Award for its citywide environmental sustainability efforts. Praised sustainability practices included successful and ongoing completion of 46 goals in the City's 2010 Sustainability Plan and specific projects including the Water Leak Detection Survey, the new Household Hazardous Waste Facility that opened in early 2015, the Recycling Cart Program, the Emerald Ash Borer treatment program and the City's plans to construct a compressed natural gas (CNG) fueling station.
Pollination Station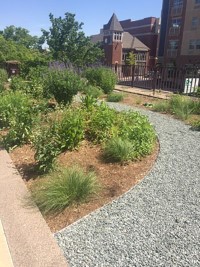 The City of Naperville is proud to have planted a pollination station in a plot of land above the east entrance to the lower level of the Municipal Center. This garden features a variety of native plant species that can offer a habitat for butterflies and other pollinators. This demonstration garden is a way to educate our community on the benefits of alternate landscaping options and inspire them to learn more about this type of gardening.
Learn about Naperville's Pollination Station
A Beautiful Yard without Pesticides
Studies show that use of lawn chemicals can have environmental ramifications, especially for children. The chemicals can potentially contaminate surface and groundwater, affect outdoor and indoor air quality, and threaten the health of pets and wildlife. Have you considered alternative approaches, such as:
Leave grass clippings on the lawn to act as a natural fertilizer.
Overseed to fill in existing bare spots in the late summer or early fall. This approach will prevent weeds from taking over these spaces in the spring.
Aerate your soil to facilitate healthy grass growth.
Keep your mower blade setting at least 2-3 inches tall to allow your grass to developer deeper, more drought resistant roots.
Have you also considered using native plants in your landscaping? Join the many homeowners who have incorporated native plants into their landscapes to create beautiful outdoor spaces, invite birds and butterflies to their yards, reduce their use of water, fertilizers and pesticides and protect our rivers.
Learn More About Native Plants
Monarch Waystation
The monarch migration is truly one of the world's greatest natural wonders. Did you know that the monarch butterfly is in desperate need of habitats to lay its eggs? The City of Naperville would like to encourage residents to plant monarch waystations in their own backyards. If your monarch habitat meets or exceeds the general description of a Monarch Waystation set forth below, your habitat may be certified by Monarch Watch as a Monarch Waystation. You may also choose to purchase a weatherproof sign to display, identifying your habitat as an official Monarch Waystation. See the Monarch Waystation tips (PDF) for more information.