Landscaping and Clearance Requirements
Clearance Requirements
Transformer, Switches and Pedestals
No structures, fences or shrubs can be placed within 10' of the front and 5' from the sides of an electric transformer or switch. There should be a vertical clearance of 22' from the top of the final grade at the transformer location. All pedestals must have at least 3' clearances.
Electric Meters
Electric meters must be placed so that there is no obstruction for meter reading, meter testing or other maintenance, allowing 2' and 4' front clearances. Meters must be located in an unlocked area so they can easily be accessed for maintenance and testing.
Overhead Electric Power Lines
The Electric Utility maintains clearances along overhead electric power lines. Trimming is done on an approximate three-year cycle. Before pruning, trimming or cutting down trees near power lines, or to report trees interfering with power lines, call (630) 420-6187. If requesting tree trimming services near utility, lines, please allow 48 hours.
Landscaping Requirements
Recommended species for growing around electric facilities are short, compact, conical, columnar or pyramidal plants. Remember to factor size at maturity when planning to ensure plants do not grow into the clearance requirements stated on this page.
Do's and Don'ts
Utility Meters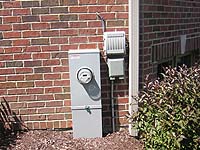 Good Placement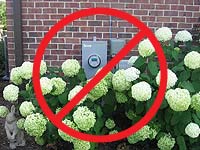 Bad Placement
Utility Pedestal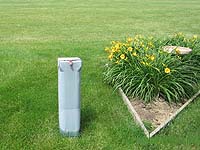 Good Placement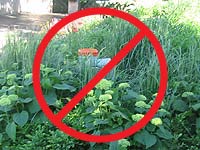 Bad Placement

Residential Transformers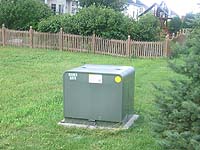 Good Placement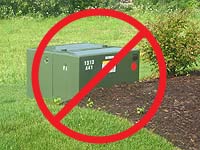 Bad Placement
Commercial Transformers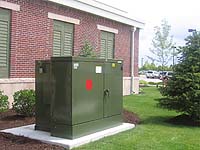 Good Placement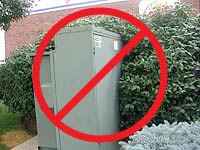 Bad Placement
Suggested Plantings
(sizes below are tall x wide at maturity)
Flowers
Annuals and/or Perennials
Ornamental Grasses
Blue Silver Fescue 6"-12"x 8"
Dwarf's Garters Grass 15"-18"x 15"-18"
Japanese Forest Grass 10"-12"x 15"-18"
Flowering Shrubs
Weigela Pink Poppet 2'x 2'
Spiraea, Goldmound 1'-2'x 2'-3'
Spiraea, Little Princess 18"x 24"
Evergreens
Arborvitae, Danica 2'x 2'
Arborvitae, Hetz Midget 18"-24"x 18"-24"
Juniper Blue Star 1'-2' x 2'-3'
Broadleaf Evergreens
Bog Rosemary, Blue Ice 1'-2'x 2'-3'
Boxwood, Green Mountain 3'x 2'
Euonymus, Emerald 'N Gold 2'x 2'
Miniature Roses
Rose Tree, Denver Dream 18"-24"x 24"
Rose, Sonia Sunblaze 12"-15"x 12"-15"
Rose Raspberry Sunblaze 12"-15"x 12"- 15"