Building and Development
The City encourages use of green building practices in new development, redevelopment and renovations.
Sustainable Building Strategies
Sustainable buildings and developments provide a range of environmental, economic and social benefits throughout the community. By incorporating one or more of these strategies into design and construction, it helps build a more sustainable and resilient Naperville:
Maximize energy efficiency and go beyond the adopted energy conservation code to the greatest extent feasible.
Minimize greenhouse gas emissions from materials, construction, maintenance and use, and go beyond the current Naperville energy conservation code to support the construction of zero-carbon buildings.
Include renewable energy in your development plans when feasible; or, where site conditions do not allow for on-site renewable energy generation, contribute to local carbon offset projects, such as local community solar or tree-planting projects.
Make your new development electric vehicle ready. Retrofits at a future date may cost significantly more.
Limit dark-colored impervious surfaces, as they contribute to creating an urban heat island.
Complete third-party verified green rating systems and utilize certified products, such as LEED or Energy Star.
Reuse existing buildings when possible because the most resource-efficient buildings are the ones that already exist.
Green Building Design and Certification
The following resources provide additional information about the best sustainable practices.
Electric Vehicle Charging Stations
The City encourages installation of electric vehicle charging stations and advises customers to contact the Naperville Electric Utility before beginning the installation process. The City is offering up to a $700 rebate for a Level 2 or 3 electric vehicle charging station for residential use and up to a $500 rebate for a Level 2 or 3 charging station for nonresidential use.
What to Know Before Electric Vehicle Charging Station Installation
Solar Panel Installation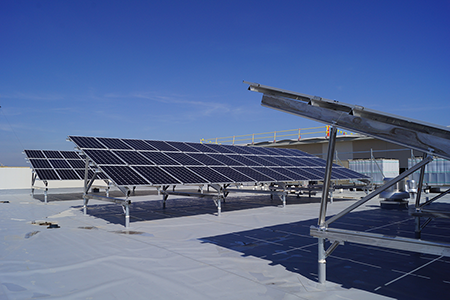 The City of Naperville and the Electric Utility support the transition to clean energy for residents and businesses by making it faster, easier and more affordable to install solar energy systems. Building permits are required for all residential and commercial solar installations and must be obtained through the Transportation, Engineering and Development Business Group prior to beginning any work.
Grants and Financial Incentives
Building Permit Information